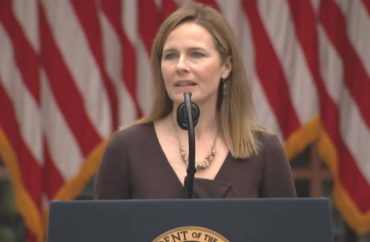 More than 1,500 alumni of Rhodes College, US Supreme Court nominee Amy Coney Barrett's undergraduate institution, have signed off on a "letter of concern" regarding the potential justice.
Rhodes is a small, private institution in Tennessee with historical ties to the Presbyterian Church.
According to The Hill, after Rhodes President Marjorie Hass praised Barrett shortly after President Trump's nomination, Rhodes alumni Rob Marus and Katherine Morgan Breslin penned a letter criticizing Barrett's stances on abortion, ObamaCare and LGBTQ rights.
"We are likewise firmly and passionately opposed to Rhodes administrators' attempts to embrace Amy Coney Barrett as an alumna of our beloved alma mater," their letter reads. "We oppose this embrace because we believe both her record and the process that has produced her nomination are diametrically opposed to the values of truth, loyalty, and service that we learned at Rhodes."
CBS News notes letter signatories are "firmly and passionately opposed to [Barrett's] nomination." The letter includes those who graduated "as far back as 1959."
"Amy Coney Barrett has repeatedly shaded the truth about her own views and past associations," the letter continues. Barrett "has demonstrated a judicial philosophy and record that fails to serve and protect the vulnerable in our society, including immigrants, those in the criminal justice system, and individuals reliant on the Affordable Care Act."
Letter co-author Marus said those who signed are concerned Rhodes' reputation "could be diminished in the eyes of potential and current students" who don't share the views of President Trump and Barrett.
Marus conceded his efforts won't "change how the Senate vote[s]" on Barrett, he's just worried about his alma mater's reputation.
Read The Hill and CBS News articles.
MORE: Notre Dame divided on nomination of Amy Coney Barrett to SCOTUS
MORE: Villanova prof pens error-filled commentary about Amy Coney Barrett
IMAGE: YouTube screenshot
Like The College Fix on Facebook / Follow us on Twitter