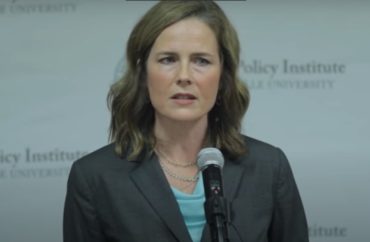 He's a 'Catholic scholar'
A theology professor at Villanova University made several key factual errors in a September 24 column in Politico, commenting on the then-presumed nomination of Judge Amy Coney Barrett to the Supreme Court.
Massimo Faggioli, a professor at the Catholic college outside of Philadelphia, wrote that Barrett's religious beliefs are fair game in an opinion piece titled "Why Amy Coney Barrett's religious beliefs aren't off limits."
"I'm a Catholic scholar, I've written two books on the type of religious community that Barrett is a member of, and I don't think it's anti-Catholic to ask questions about Barrett's religious beliefs," the professor wrote.
"On the contrary, as the president nears a decision on her potential nomination later this week, I'm convinced they need to be front and center."
Faggioli had three central arguments in his article, all of which contained errors. Politico added an editor's note at the bottom of the article, but the mistakes were described earlier by Sohrab Amari, an op-ed editor for the New York Post in a post on September 24, the same day Faggioli's column was published.
from the reactions to my article published in "Politico", it is evident that the US Catholic right has been able to build a coordination of its voices and an alignment with the agenda of the GOP: coordination and alignment that the rest of the US Catholic Church does not have.

— Massimo Faggioli (@MassimoFaggioli) September 27, 2020
Faggioli argued that the U.S. Senate should demand a copy of any "solemn contract" Barrett signed with the People of Praise, a religious organization that Barrett is involved with, even though, as Amari points out, there's nothing secretive about the group.
The People of Praise has the "covenant commitment" posted on its website.
Politico said that it updated the article to "reflect the fact that charismatic communities' vows are not necessarily secret," but the version of the article as of Monday still stated: "Anthropologists, sociologists and theologians have documented not only the spiritual vitality and witness of such communities, but also their closed and secretive nature."
Politico did not respond to an emailed request for comment from The College Fix seeking clarification on what changes were made to Faggioli's original article.
Faggioli erroneously implied that members of Opus Dei, a Catholic religious group, are required to take vows.
He originally wrote: "Some people might understandably balk at having a member of a religious order or Opus Dei sit on the Supreme Court. But at least in these communities, the vow of obedience that such a person has made would be visible, formal and accountable."
MORE: Notre Dame divided on nomination of Amy Coney Barrett
Politico updated the article to say "the vow of obedience or other commitment," adding in the words "or other commitment."
But Opus Dei members do not take vows, as the religious group's website publicly states and Omari noted.
Finally, Omari points out that Faggioli "tries to paint [People of Praise] as somehow a renegade Catholic order, disdained by the pope" when in fact Pope Francis' 2014 statement applied to both Catholic and non-Catholic movements.
The issue of Judge Barrett's involvement in People of Praise and her Catholic beliefs simmered to the top during her nomination hearings in 2017 to the 7th Circuit Court.
Democratic California Senator Dianne Feinstein told Barrett that the "dogma lives loudly within" the judicial nominee and Notre Dame law professor.
Democratic Senator Dick Durbin also criticized Barrett for her use of the phrase "orthodox Catholic."
Faggioli drew criticism from other publications for the way he characterized these exchanges.
Ramesh Ponnuru, writing at the National Review, criticized Faggioli for his characterization of these exchanges as being focused on Barrett's faith:
Senators are well within their rights to ask any nominee, whatever their religion or lack of it, whether they have any commitments that would interfere with their obligation to apply the law.

They are not justified in insinuating, with zero evidence, that someone's (reported) membership in a religious organization creates a special obligation for that question to be asked and answered. They would, similarly, be wrong to ask an atheist nominee if he could really be trusted to protect religious liberty.
MORE: Amy Coney Barrett ruled against Purdue's Title IX policy for anti-male bias
IMAGE: Jacksonville University / Youtube
Like The College Fix on Facebook / Follow us on Twitter