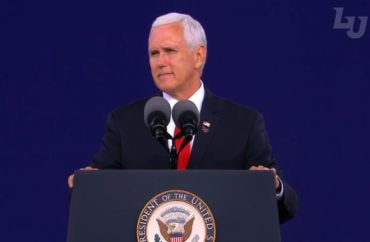 LYNCHBURG, Va. — The vice president of the United States was not shy about discussing his faith journey when he took the stage on Saturday to congratulate Liberty University's class of 2019.
Mike Pence told the graduates at one of the largest Christian universities in the nation that he was raised a Christian, but walked away from the faith for a bit before getting involved in a college campus ministry after being drawn to the joy he saw in his Christian peers.
Soon after, he said he accepted Christ at a youth Christian music festival.
"That night I put my faith in Jesus Christ as my personal Lord and savior and it's made all the difference," Pence said to applause. "So I say not so much as your vice president but as a brother in Christ … America needs men and women of integrity and faith now more than ever. It's true."
Pence's speech then veered to the persecution Christians face in America and across the globe.
"The truth is we live in a time when freedom of religion is under assault," he said. " … Christians suffer more persecution around the world than any other religion. … Persecution of Christians worldwide is at near genocide levels. In the last few months we've seen unspeakable attacks on people of faith. Jewish synagogues in Pennsylvania and California. A mosque in New Zealand. Christian churches in Sri Lanka and three historically black churches in Louisiana. No one should ever have to fear for their life in their place of worship and these attacks must stop."
He also spoke on the forgiveness one pastor whose church was hit by an arsonist offered the perpetrator, adding "that's the kind of faith we need to see more of in these divided times — faith that unites on a foundation of grace."
Pence said today it's acceptable and fashionable to mock and discriminate against people of faith.
"It wasn't all that long ago that the last administration brought the full weight of the federal government against the Little Sisters of the Poor merely because that group of nuns refused to provide a health plan that violated their deeply held religious beliefs," Pence said. "And when the state of Georgia recently debated protections for the unborn, a bevy of Hollywood liberals said they would boycott the entire state."
The vice president then offered an anecdote that his close to home.
"And when my life Karen returned to teach art at an elementary Christian school earlier this year, we faced harsh attacks by the media and the secular left and a major newspaper reporter actually started a hashtag called 'expose Christian schools,' inviting students to share their 'horror' stories of Christian education," he said.
"Freedom of religion is enshrined in the Constitution and in the hearts of every American," he said, "and these attacks on Christian education are un-American."
He continued: "I promise you, we will always stand up for the right of Americans to live, to learn, and to worship God according to the dictates of their conscience."
Pence also spoke to the grads about the challenges they will face in the future because of their faith. He said in the past it was pretty easy to call oneself a Christian, "but things are different now."
"Some of the loudest voices for tolerance today have little tolerance for traditional Christian beliefs," Pence said. "So as you go about your daily life, just be ready. Because you are going to be asked not just to tolerate things that violate your faith, you're going to be asked to endorse them. You are going to be asked to bow down to the idols of popular culture. So you need to prepare your minds for action, men and women."
And once again, he cited Jesus as a source of strength.
"… And have faith that he who brought you this far will never leave you or forsake you, because he never will," Pence said.
The vice president's speech was also peppered with statements regarding the economic success the nation is enjoying today under President Donald Trump.
"Thanks to Donald Trump, jobs are coming back and America is back," Pence said. "You are entering a growing American economy."
He also added that there are more Americans in jobs than ever before and there are more job openings than Americans looking for work, adding "that's good timing, Liberty."
Pence also touched on abortion and Israel.
"America stands with Israel," the vice president stated. Regarding the pro-life movement, he said, "We stand without apology for the sanctity of human life."
Pence told the crowd he was "passing along greeting" from the president, but his microphone went out while he delivered the message from the president. When it came back on he laughed and said, "that was fun."
In closing, Pence referenced the slogan Make America Great Again, telling the graduates, "Right after we get done making this country great again, you're going to make it greater than ever before. God bless you and God bless America."
Despite the threat of rain, Liberty University commencement brought an estimated 50,000 people to the 46th commencement held at Williams Stadium. Throughout the stadium, Lynchburg SWAT, Secret Service, and the Liberty University Police Department checked bags, manned metal detectors and surrounded the stadium.
Pence was not the only famous conservative on the stage. Shannon Bream of Fox News, Secretary of the U.S. Department of Housing and Urban Development Ben Carson, and Turning Point USA's Charlie Kirk were also in attendance. Kirk was awarded an honorary doctorate the night before at Liberty's baccalaureate.
MORE: 'Faith in America is rising once again,' VP Mike Pence tells Hillsdale grads
Like The College Fix on Facebook / Follow us on Twitter