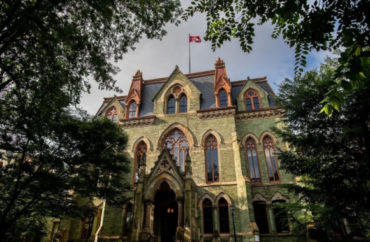 The concept of "freedom" is "intertwined with whiteness," according to a University of Pennsylvania graduate student writing in The Washington Post on Thursday.
Taylor Dysart, a doctoral candidate at Penn, authored a column in which she attempted to find roots of "colonialism" in the desire of a group of Canadian truckers to avoid being vaccinated. For several weeks, the truckers have clogged Ottawa's roadways, objecting to a vaccination mandate implemented by Canada's government.
"The convoy has surprised onlookers in the United States and Canada, both because of the explicitly racist and violent perspectives of some of the organizers and because the action seems to violate norms of Canadian 'politeness,'" Dysart writes. "But the convoy represents the extension of a strain of Canadian history that has long masked itself behind 'peacefulness' or 'unity': settler colonialism."
"The history of Canadian settler colonialism and public health demonstrates how both overt white-supremacist claims and seemingly more inert nationalistic claims about 'unity' and "freedom" both enable and erase ongoing harm to marginalized communities," she writes.
But then Dysart makes a seemingly contradictory claim: That "freedom" is, in fact, oppressive.
"The primarily White supporters of the Freedom Convoy argue that pandemic mandates infringe upon their constitutional rights to freedom," she writes. "The notion of 'freedom' was historically and remains intertwined with Whiteness, as historian Tyler Stovall has argued. The belief that one's entitlement to freedom is a key component of White supremacy. This explains why the Freedom Convoy members see themselves as entitled to freedom, no matter the public health consequences to those around them."
Materials promoting Stovall's book, "White Freedom: The Racial History of an Idea," say it discusses "how the Statue of Liberty—a gift from France to the United States and perhaps the most famous symbol of freedom on Earth—promised both freedom and whiteness to European immigrants."
The assertion that one "entitlement to freedom" is "key component of White supremacy" baffled many who noted "freedom" has often been a cry in defense of enslaved blacks in America.
"So emancipating the slaves and eliminating Jim Crow was…white supremacist? I guess the anti-apartheid movie 'Cry Freedom' was a racist dog whistle?" asked Jonah Goldberg of The Dispatch.
Yeah totally, man. Noted white woman Harriet Tubman has a lot of great quotes on this topic. pic.twitter.com/vN20vFQuHr

— jonstokes(.com|.eth) (@jonst0kes) February 17, 2022
Others pointed out the idea that "freedom is white supremacy" is taken almost verbatim from George Orwell's novel "1984:"
"WAR IS PEACE
FREEDOM IS SLAVERY
IGNORANCE IS STRENGTH"
Dysart has both a bachelor's and master's degree, each from a Canadian university. According to her webpage, she draws inspiration "from and work between the history of the human and life sciences, the history of medicine, feminist and post-colonial STS, post-colonial and settler colonial studies, and modern Latin American history."
Read her full column here.
MORE: U. Pennsylvania men's soccer team undergoes anti-racism training
IMAGE: University of Pennsylvania / Instagram
Like The College Fix on Facebook / Follow us on Twitter