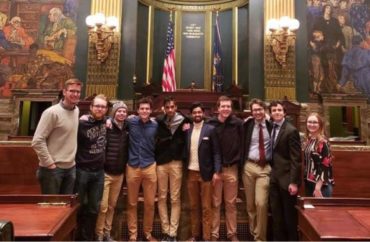 'Freedom of association protects student groups' rights to control their own membership, which includes disciplining or expelling members,' advocacy group says
All students at Pennsylvania State University's flagship campus in University Park now have the right to determine who can be a member of their group following advocacy from a free speech group.
The victory came after the Foundation for Individual Rights and Expression sent a letter to Penn State officials requesting the school clarify its policy.
FIRE's interest in the policy came after the College Independents (pictured), a campus group, sought to remove a disruptive student from the club.
The student organization is nonpartisan and promotes "the respectful discussion and exchange of ideas, and we bring together students studying a wide variety of fields, including political science, economics, engineering, and business," according to its description.
The group wanted to remove a member who "repeatedly sent unsolicited text messages to an organizational group chat," according to FIRE.
An administrator originally said no, before allowing the group to remove the student. FIRE sought to ensure that all groups had their rights protected.
A program officer for the free speech group who worked on this situation told The College Fix via email on July 27 why it is important for groups to maintain the right to pick their own members.
"Freedom of association protects student groups' rights to control their own membership, which includes disciplining or expelling members," Graham Piro said.
"This is important because a group cannot be effective if members or leaders are undermining, interfering with, or contradicting the group's mission when participating in group activities — or when not participating in group activities," Piro said.
MORE: SIUE must pay $80K to settle free speech lawsuit
"Penn State must respect that right, and we are glad to see that it has affirmed that it will," the program officer told The Fix.
The media relations team did not respond to a July 24 email from The Fix that asked how the university planned to inform the school community about the policy.
FIRE had told Penn State that it "must allow student groups to determine their own membership—which includes the right to admit, expel, or discipline members at the group's sole discretion."
"Please know that we deeply appreciate Penn State's recent efforts to protect free expression on its campus," Piro wrote in its letter. "We suspect the administrator's quick retraction here was a result of those efforts, but we would appreciate confirmation."
Penn State's affirmation of the policy came via a July 12 letter to the group. "Any recognized student organization at Penn State is able to make its own membership decisions," student leadership director Jeffrey Zapletal told the College Independents.
Zapletal told the group that it should work with administrators to handle conflict with other students as well.
Penn State officials have reversed course or apologized three times in the past 15 months to ultimately protect free speech, FIRE wrote in its victory blog.
This includes the university rescinding security fees for an April 2022 debate on campus.
The other incident occurred after administrators canceled an October 2022 event featuring political commentator Gavin McInnes and a conservative comedian. President Neeli Bendapudi originally blamed McInnes and comedian Alex Stein for "contribut[ing]to the very violence that compromised their ability to speak."
In April 2023 she stated the university would protect free speech, which FIRE considered a victory.
MORE: Columbia University rejects book for being too pro-police
IMAGE: OrgCentral.psu.edu
Like The College Fix on Facebook / Follow us on Twitter