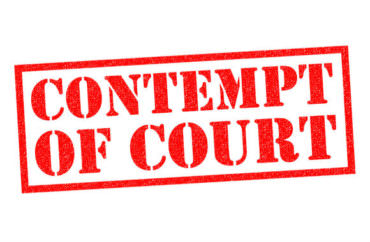 Same 'biased and flawed' report will be used
Pennsylvania State University has greatly frustrated U.S. District Judge Matthew Brann.
It ran a Title IX investigation that was so grossly tilted in favor of one party that the public university didn't bother asking the accuser any questions that touched on her credibility.
The accused student who won a reprieve from Brann – in the form of an injunction against his suspension – is now seeking to gin up the judge's frustration against Penn State again.
PennLive reports that "John Doe" asked Brann to hold Danny Shaha, interim assistant vice president for student affairs, and Karen Feldbaum, interim director of the Office of Student Conduct, in "civil contempt of court."
The accused student, a naturalized citizen, received an email Sept. 25 from Shaha that says Penn State will try him again with a "new Title IX decision panel" and procedures that purportedly satisfy Brann's order.
Though Doe's full response to the charges will be given to the new panel – his original was redacted by a Title IX investigator at least twice – the panel will still use the same "biased and flawed investigative report" that included redacted statements from "Jane Roe."
This is a clear attempt by Penn State to circumvent Brann's order by putting Doe through another kangaroo court, the student claims:
There is no mechanism to justify vacating the panel's findings and order a new hearing, he says.

He accuses the university and the other defendants in his lawsuit of having a goal to have him "once again removed through a fatally flawed and biased process."
Brooklyn College Prof. KC Johnson, co-author of The Campus Rape Frenzy, posted a copy of the email Doe received announcing his new proceeding.
"This new, recongifured [sic], hearing addresses some but not all of judge's concerns (& also appears to violate Penn State rules)," Johnson tweeted.
MORE: Woman forced herself on me, Penn State kicked me out as the rapist
V. odd. Despite TRO & w/o informing the judge, Penn State w/draws finding of guilt against accused student but then says it will re-try him. pic.twitter.com/5qbeqtZ2s7

— KC Johnson (@kcjohnson9) October 8, 2017
In a Friday filing in support of Doe's motion for contempt, his lawyers tell Brann that the judge's Aug. 18 order required Penn State to put Doe "back in school and participating fully" in the joint pre-med program it runs with Thomas Jefferson University:
The Court was not seeking to provide the Defendants [Penn State and various officials] an opportunity to interrupt Plaintiff's studies and subject him to the same lack of due process he had just endured. …

These e-mails and plan to conduct a "second panel hearing" clearly manifest Defendants and Danny Shaha's intent to usurp and circumvent this Court's jurisdiction and authority. It is indisputable that Your Honor held, in granting Plaintiff's [temporary restraining order], that the plaintiff has "made the necessary showing of likelihood of the success on the merits". Your Honor continued and stated: "my reasoning is based on both (1) significant and unfair deviations from policy during the investigation and hearing; and (2) the redactions made by the Investigator to Doe's June 1, 2017 Response to the Charge and Sanctions Notification" …
The filing notes that the new letter to Doe came the first business day after the Department of Education rescinded guidance documents that governed Title IX proceedings – guidance that led Penn State to change its procedures, to Doe's detriment:
Based upon the hearing testimony and the Court's findings and the recent withdrawal of the old "Dear Colleague Letter", Defendants have every right to anticipate a negative outcome at the time of trial. As such, they are desperately and haphazardly attempting to unilaterally rewrite history.
Read the PennLive story and new filing.
MORE: Judge blasts Penn State for never asking rape accuser for evidence
IMAGE: chrisdorney/Shutterstock
Like The College Fix on Facebook / Follow us on Twitter