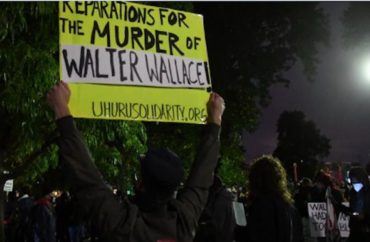 Students at the University of Pennsylvania are incensed at the reaction of school officials to the killing of a black man by Philadelphia Police.
On Monday, Walter Wallace Jr. was shot dead by officers after coming at them with a knife. Nights of protests followed.
The official response by the police union notes Wallace was told to drop the knife "more than 20 times," and officers had retreated for "nearly 50 seconds" before opening fire.
A Wallace family attorney said officers shot Wallace 14 times at "about a car-and-a-half-length distance away." He added the city did not equip police properly as they did not have "less lethal options" of which to make use, like tasers.
According to The Daily Pennsylvanian, an email statement by Penn President Amy Gutmann, Provost Wendell Pritchett and Executive Vice President Craig Carnaroli referred to Wallace as "a neighbor of the Penn community" and mentioned his "death" — without noting how he died.
Penn students said Wallace's killing and the protests which followed "reflect the city's deep-rooted history of militarized police presence that the University email disregarded completely."
College senior Landry Krebs, who along with several peers took to Twitter to condemn the email, labeled it "a passive way of talking about state-sanctioned terrorism." …

College junior Taya Lowery-Williams said she noticed that it took two days for the University to send the email, but just seconds to send UPennAlerts warning against "civil unrest."

"I thought it was interesting that Penn seemed to be more concerned with protecting Penn property," Lowery-Williams said. "The framing of looting made it seem like they were more concerned about [the looting] than the reason why people were protesting, and the reason there was civil unrest." …

College senior Danny Holdsman denounced the University for claiming to support the West Philadelphia community whilerefusing to pay Payments in Lieu of Taxes to the Philadelphia public school system, calling the statement "offensive" to the West Philadelphia community.
Krebs added the email shows that campus police aren't actually concerned about "enforcing any kind of safety," they're just defending "those who are committing these crimes and white supremacy as a whole."
MORE: U. Pennsylvania group: Dismantle campus police, 'decriminalize Blackness'
MORE: Students demand U. Pennsylvania sever ties with Philly cops
IMAGE: Daily Pennsylvanian Twitter screencap
Like The College Fix on Facebook / Follow us on Twitter