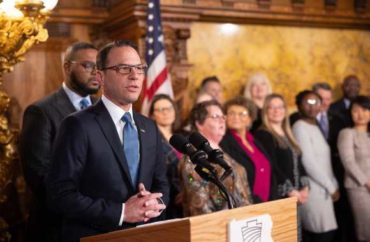 Signals bipartisan shift away from degree requirements for state employment
Pennsylvania Gov. Josh Shapiro, a Democrat, eliminated bachelor's degree requirements for 92 percent of state positions, following similar policy announcements by Republican governors in Utah and Maryland in 2022.
For Pennsylvania, that's roughly 65,000 jobs now open to candidates without four-year degrees, Shapiro said at a Jan. 18 press conference.
Shapiro also said he would review the relevance of degree requirements for the remaining eight percent of state positions.
Over 66 percent of Pennsylvanians lack bachelor's degrees, according to 2022 U.S. Census data.
The College Fix left a voicemail with the governor's office on Jan. 23 to ask for comment on any plans to implement active learning alternatives for degree-seeking students, such as apprenticeship programs, but no response has been received.
On my first full day in office, I just announced that effective immediately, 92% of state government jobs – about 65,000 positions – do not require a four-year college degree.

We're not wasting a second. pic.twitter.com/lajbkKpt07

— Governor Josh Shapiro (@GovernorShapiro) January 18, 2023
The executive order, signed on Shapiro's first day of office, "emphasizes skills and experience in all commonwealth job postings," according to a Jan. 18 news release.
"I want to make it clear to all Pennsylvanians, whether they went to college or they gained experience through work, job training, or an apprenticeship program: we value your skills and talents, and we want you to apply for a job with the Commonwealth," Shapiro said.
The shift aims to update "the Commonwealth's hiring model to a model focused on skill, competency, and practical experience, rather than just educational background, which will offer new opportunities for all Pennsylvanians to succeed professionally," the executive order states.
"We've got to begin to make sure people recognize that they're qualified for those jobs, and that we want them to do that work," it stated.
In response, the governor's office is "launching a new initiative to encourage Pennsylvanians of all educational backgrounds to apply for work right here in this commonwealth" by creating a new website, Employment.Pa.gov, which listed 770 open government jobs on Jan. 27.
The Fix emailed Penn State University to ask for comment on the value of a bachelor's degree compared to real-world experience and the prioritization of skills over degree requirements in the hiring process. It has not received a response.
Shapiro's order follows Republican precedent, private trend
While Gov. Shapiro is the first Democrat to announce the elimination of degree requirements for government positions, his announcement follows similar policy shifts by Republican governors Spencer Cox in Utah and Larry Hogan in Maryland, reported by The Fix last year.
This public transition mirrors a trend in private business.
"Some 46% of middle-skill and 31% of high-skill occupations experienced material degree resets between 2017 and 2019," a trend which was accelerated by the COVID-19 pandemic, according to a September 2022 report from the Burning Glass Institute, a think tank that analyzes labor trends. "Material degree resets" means eliminating bachelor's degree requirements in this context.
This transition benefits employees and employers alike. Bachelor's degree requirements "hamper companies from finding the talent they need to grow and prosper and hinder Americans from accessing jobs that provide the basis for a decent standard of living," according to a 2017 report by the Harvard Business School.
MORE: Bachelor's degrees have become optional for more jobs across industries
IMAGE: Commonwealth of Pennsylvania
Like The College Fix on Facebook / Follow us on Twitter