A school board member from an eastern Pennsylvania district recently took to the local paper to tell parents "With all due respect, I don't work for you."
In a January 20 York Dispatch column, Richard Robinson of the York Suburban School District Board laments the days of old when virtually nobody showed up to school board meetings — because now the community "vent[s] their spleens" about "exorbitant taxes" and "demand[s] subjects be taught properly the way they were during the most frigid period of the Cold War."
Robinson proceeds to offer several bullet points of advice to parents and others in the community, specifically noting that his comments are "not coming from a member of a school board, but rather as a member of my community who serves on a school board."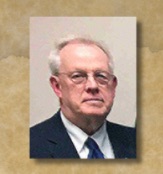 With his first bullet point, Robinson (left) attempts to explain the difference between "working" for the community and "representing" it. "It is not the same thing," he says. "[And] you may also be surprised to learn every member of a school board is a taxpayer, too."
MORE: School board president allegedly kept files on 'lunatic, psycho' parents
Robinson then advises parents with advanced degrees to spare him the pointing out thereof: "When a person introduces him or herself as a doctor, their education, training and experience matter to me. After all, Jack Kevorkian was a doctor."
With all due respect to those of you who believe threatening a school board with a lawsuit constitutes effective communication: You are not the first. You will not be the last.

With all due respect to parents who declare, "Keep this masking nonsense up and I will pull my child out of school, you'll lose money, and then you'll be sorry!" Framing your choice this way makes you sound like a bully. Still, it's your choice. Nobody is taking choice away from you.

With all due respect to the parents who make the pretentious statement phrased as a foregone question, "Don't parents always know what is best for their child?" No, we don't. Nevertheless, if you are offended because I don't believe parents are infallible, you can always sue or take your child out of school. Your choice.

Finally, with all due respect to the charlatans who claim health and safety measures are responsible for destroying the mental health of children simply to justify their own social agenda, you are the most offensive and vile of all. There are members of this community who tried to draw attention to the warning signs of increasing mental distress among our children long before you ever thought of mental health as a potential cudgel. To listen to your repeated distortions of the facts is nauseating.
And if all that isn't smug enough for you, Robinson concludes that "as far as [being on] the right side of history …" he likes his odds.
h/t to Corey DeAngelis
MORE: Report: White House collaborated with school boards group on 'domestic terrorist' letter
IMAGES: aastock/Shutterstock.com; York Suburban School Dist./Facebook screencap
Like The College Fix on Facebook / Follow us on Twitter