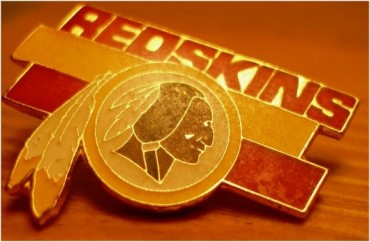 An elementary school in Bethesda, Maryland has barred students and staff from wearing any article clothing with the Washington Redskins team name and/or logo on it.
The private Green Acres School sent home a letter to parents which said "the term 'Redskin' is a racial slur. Its use, whether intentional or not, can be deeply insulting and offensive."
According to USA Today, head of school Neal M. Brown said third graders raised the issue last year while studying Native Americans. A Native family with a student at Green Acres had objected to the NFL team's clothing.
"We certainly don't want to vilify anyone who comes to school in violation of this," Brown said. "Ultimately, most kids won't wear that kind of clothing because they understand why it is upsetting to some people."
Green Acres School has roughly 250 students from pre-K through eighth grade. Brown said how the school reacts to students who come to school in Washington NFL clothing will depend on their ages. For a four-year-old, it might mean a call home to remind parents of the policy for future reference; for a 14-year-old, it might mean asking the student to wear a school shirt for the day. Not all of that is worked out yet.

"We will handle it in an age-appropriate, sensible and sensitive way," Brown said. "I certainly don't want kids to feel they can't support their team or there's anything wrong with that." …

Brown's letter to the school community, which is posted on the Green Acres website, says the Washington team name "demeans a group of people. Similarly, the team's logo also can reasonably be viewed as racially demeaning. At best, the image is an ethnic stereotype that promotes cultural misunderstanding; at worst, it is intensely derogatory."

The new policy is really just an extension of the existing dress code, Brown said. "The kids are supposed to wear clothing that is respectful and also not in any way offensive," he said.
No other team with Native imagery is currently affected by the dress code, but Brown says that could change: "For now, we haven't ventured down that path."
Brown might want to consider a Washington Post poll from last year in which nine out of ten Native Americans said they do not consider "Redskins" offensive … a figure unchanged since a similar 2004 poll.
Read the full USA Today article.
MORE: CLAIM: White House official beat up Native American student for wearing Redskins shirt
MORE: San Diego State Native American group wants 'Aztec' mascot eliminated
Like The College Fix on Facebook / Follow us on Twitter
IMAGE: Stephen Train/Flickr