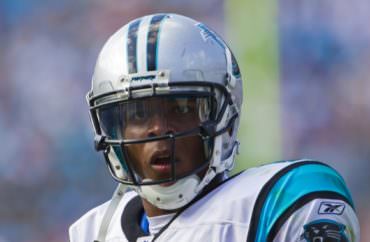 Imagine you're sitting on the couch watching an NFL game with your buddies. Carolina Panthers quarterback Cam Newton rolls back and throws a perfect spiral for a touchdown. You turn to your friends and say, "Wow, he's naturally gifted."
It's meant to be a compliment, but could it also be perpetuating racism? The answer is yes, according to two professors who've recently published studies on alleged stereotypes used to describe black and white quarterbacks.
They argue people tend to describe white quarterbacks as having intelligence and leadership, while describing black quarterbacks as just being strong or naturally gifted, an example of implicit racism that they claim is more dangerous than overt racism.
What's more, the scholars found that black people are guilty of such quarterback stereotyping themselves, which has possibly hindered how blacks perceive their level of ability to play quarterback.
The vast majority of players in the NFL are black, however most kickers, punters and quarterbacks are white.
In two scholarly articles, Patrick Ferrucci, a journalism professor at the University of Colorado-Boulder, and Edson Tandoc, a professor at Nanyang Technological University in Singapore, assert there's a bias in how broadcasters and journalists describe black quarterbacks and that the descriptions fall along racial lines.
These stereotypes, according to the scholars, have been adopted by observers and influence how they perceive professional quarterbacks.
In "The Spiral of Stereotyping: Social Identity Theory and NFL Quarterbacks" and "Race and the Deep Ball: Applying Stereotypes to NFL Quarterbacks," Ferrucci and Tandoc argue the stereotypes used to describe black and white quarterbacks fall within a "brains-versus-brawn dichotomy."
The articles, co-bylined by the scholars and published this year, claim that whereas white quarterbacks are described as having intelligence and leadership, black quarterbacks are often referred to as strong or naturally gifted. The professors state these characteristics can be seen as positive, but allege the discrepancy in how black and white quarterbacks are described contains a dangerous bias.
"These stereotypical descriptions could have a significant effect on how the public views the issue of race and quarterbacking, while also reifying traditional narratives formed through historical racism," one of the articles states.
Discussing the differing terms used to describe quarterbacks based on race, Ferrucci and Tandoc state the stereotypes don't lead to "overt racism" but rather a more "damaging type of racism" they refer to as implicit racism.
Citing the previous research, one of the articles states implicit racism "can be more detrimental to society as it is more likely to spread without thought and creates general assumptions about groups of people that, on the surface, may seem innocuous and true to many."
To determine their thesis, the professors had tested how the general public perceives quarterbacks.
In their first study, white participants were more likely to "rate black players higher in physical strength and natural ability than white players." This finding, the authors argued, showed that white individuals "stereotyped the 'other.'" However, a second study from the professors found that black people also stereotype African-American quarterbacks based on natural ability "more strongly" than whites.
In an email to The College Fix, Ferrucci said the finding of the second study was initially "surprising" but added it "wasn't so surprising after we really thought about it."
In the study, Ferrucci and Tandoc write that "minorities might also start to believe and behave according to those stereotypes." The professors write that describing black quarterbacks on the basis of their talent and strength could change the landscape of football, especially with blacks using those labels, too.
"This current study's findings suggest that these stereotypes could possibly be so engrained, especially among Black participants, that they themselves may believe they are not cut out to be a professional quarterback, which could in turn affect how they view and play the game of football starting in adolescence," the study states.
Asked if the onus is on the media to stop using the stereotypes to rid society of them, Ferrucci said he couldn't answer the question since the two studies simply looked at if people applied the labels to black and white quarterbacks.
"But, I will say, that prior research says media (journalists and just, for example, fictional TV) usually propagates stereotypes, so that would be a good start. How we get there I have no idea," he said.
Ferrucci said he and Tandoc have been studying the topic for seven years and they don't expect to publish any more articles on the subject.
MORE: Professors with Confederate names mock ESPN decision to ban Robert Lee from game
IMAGE: Shutterstock
Like The College Fix on Facebook / Follow us on Twitter