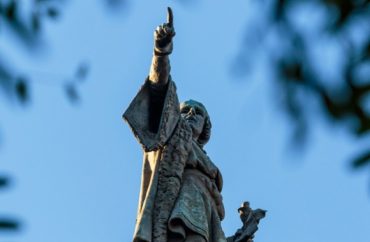 Pepperdine University is planning to remove a statue of Christopher Columbus after student complaints — but it won't happen without a fight.
Conservative nationally syndicated radio talk show host Dennis Prager's PragerU has launched a petition calling for it to be kept right where it is.
Prager derides Pepperdine's decision as a huge step in the wrong direction.
"Once regarded as one of the few sensible universities in the country, that appears to be a thing of the past," Prager states on his website. "They have gone Left. They are getting rid of their statue of Christopher Columbus for reasons of 'diversity.' The university president's letter of explanation is an embarrassing bow down to political correctness."
The petition states in part:
The statue was presented to the school as a gift in 1992, to mark the 500th anniversary of Columbus's crossing. But President Benton called the statue a matter of "significant local concern" because of Columbus's impact "related to indigenous people."

"Today…stories of conquest and the art associated therewith are painful reminders of loss and human tragedy," Benton wrote.

We at PragerU believe that Christopher Columbus should be venerated for his brave and heroic expedition.

Columbus's daring journey to North America led to the creation of the freest and most prosperous nation in human history. We want the statue to stay right where it is – where it can continue to inspire generations of American students to act courageously and explore new frontiers.

We call on president Benton to rescind his decision to remove the beautiful Columbus statue from its home on Pepperdine's flagship campus.
As of Thursday evening, more than 820 people had signed the petition.
MORE: Ceding to demands, Pepperdine will remove Christopher Columbus statue
Like The College Fix on Facebook / Follow us on Twitter
IMAGE: Shutterstock