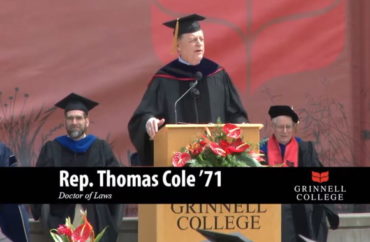 Rep. Tom Cole voluntarily relinquishes honorary degree from Grinnell College
U.S. Representative Tom Cole was the target of a petition demanding that his honorary degree from Grinnell College be revoked over his objection last week to the Electoral College vote.
In response, the Oklahoma Republican voluntarily relinquished it.
Grinnell College President Anne Harris released a statement Wednesday, Jan. 13, that administrators were in the process of reviewing the petition's demand for the revocation of the honorary degree "in response to his objection to the certification of the Electoral College votes for the next president of the United States."
Cole earned his Bachelor's Degree from Grinnell College in 1971 and received an honorary Doctor of Laws at Grinnell in 2016.
"On Monday, Rep. Cole contacted my office to request a meeting. On Tuesday afternoon, Rep. Cole called me and voluntarily relinquished his honorary degree. The College affirms that Rep. Cole no longer holds an honorary degree from Grinnell College," Harris stated.
The Hill reports that "Cole was among the over 100 GOP representatives who voted against certifying the results of the Electoral College that confirmed the victory of President-elect Joe Biden in the 2020 presidential election."
Cole's online bio states that he has been called "one of the sharpest minds in the House" by Time magazine and in 2016 was recognized by Newsmax as the "hardest working member in Congress." He was inducted into the Oklahoma Hall of Fame in 2017.
Cole, a Native American, is currently serving his ninth term in the U.S. House of Representatives.
During his acceptance speech of his honorary degree in 2016, he had praised Grinnell College for teaching him about tolerance and diversity.
"Grinnell didn't change the way I thought, but it deepened my values and matured my judgment a great deal. I needed tolerance. If you were a conservative on a liberal campus in the 1960s, believe me, you begged for tolerance. Fortunately, I got it. I got it from my classmates. I got it from my professors. I got it from wonderful staff," Cole said at the time.
"The second thing I learned here was diversity," he said. "Frankly, by being a conservative I was sort of part of diversity myself. By being a Native American where there were very few I was part of diversity in that regard."
Later in his speech, Cole talked about his view of political leadership.
"When you choose a leader, doesn't matter if they're on the left or the right, look for three qualities," he said, "… somebody who believes in the institutions of the country, who believes in fair play, who believes in open elections, who believes in the public process, and who understands something about the institutions that they're going to try and lead."
MORE: Harvard revokes offer to Kyle Kashuv over past remarks
IMAGE: YouTube screenshot
Like The College Fix on Facebook / Follow us on Twitter