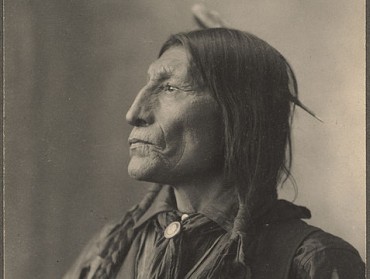 Activists at Northwestern University are demanding the establishment of a Native American Studies program as well as special scholarships for Native American students. The demands stem from controversy surrounding university founder John Evans.
Evans's name is hard to ignore on Northwestern's campus. As one of the university's founders, he not only gave his name to the university's alumni center, but also to the city Northwestern is located in – Evanston.
But student activists are trying to change the way John Evans is viewed, citing his controversial life story.
Evans was governor of Colorado during 1864's Sand Creek Massacre, in which large numbers of Arapaho and Cheyenne women and children were killed. Even though the massacre itself was committed by Col. John Chivington, Evans was accused of covering it up and was asked to resign from his post by President Andrew Johnson, which he did.
The Native American and Indigenous Student Alliance or NAISA was formed at Northwestern last year, over a century after Evans' death in 1897. NAISA soon created the Memory Project, which was aimed at raising awareness of Evans' role in the Sand Creek Massacre.
The group then released a petition in November which made a list of specific demands for Northwestern to fulfill, including the university's recognition of Evans' responsibility for the massacre, the establishment of a Native American Studies program, and the admission of  two students from the Arapaho and Cheyenne nations "on full scholarship with each undergraduate class."
The petition brought attention to NAISA's cause, and on January 23rd the group publicly called for a "Commission on Truth and Justice" to be established on the matter in a guest column for The Daily Northwestern. The column charged that "throughout his life John Evans remained our chief benefactor, making this University one that was built on the blood of native peoples."
The column was timed to appear before Northwestern's "Founder's Day," a celebration of the day the state of Illinois approved the university's act of incorporation on January 28th, 1851. It was signed by four students and Gary Fine, the John Evans Professor of Sociology at Northwestern.
Because of NAISA's campaign, Northwestern has been cautiously referring to "Founder's Day" as "our 162nd Birthday" instead.
But in a more important victory for NAISA, the university has also decided to form a committee to investigate its most controversial founder.
"I am ecstatic that a university committee is being formed," said NAISA co-president Adam Mendel. "My only concern is the composition of the committee. My hope is that it will bring together scholars and administrators from various departments, as well as representatives of the Arapaho and Cheyenne tribes."
Despite such concerns, Mendel is confident the committee will justify NAISA's activism: "As for the outcome of the committee, I do think its results will be favorable to our cause," he said.
And Northwestern just might concede on some of the petition's other points, though the extent to which they will do so is unclear.
"I know for a fact the administration has already begun examining programs to recruit more Native American students to Northwestern and to find ways of providing support," Mendel said.
Charles Rollet is a student at Northwestern University.
Click here to Like The College Fix on Facebook.