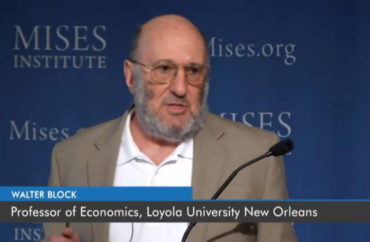 But counterpetition launched that demands scholar be given a raise
A recently launched petition demands the termination of outspoken free-market libertarian scholar Professor Walter Block at Loyola University New Orleans, accusing him of being against slavery for the wrong reasons.
A counter petition in response demands instead Block be given a pay raise.
According to the Change.org petition to oust him, economics Professor Walter Block "has publicly stated that he believes slavery to be wrong because it goes against Libertarianism, not because it is morally wrong." The petition, created by a student named M.C. Calzalas, claims Block "has justified women being paid less than men" and is "allegedly an ableist."
"If Loyola is really wanting to remove racism, they should remove racists from teaching," Calzalas writes.
The controversy over Block's statements on slavery stem from a 2014 New York Times story in which the professor reportedly said slavery was "not so bad — you pick cotton and sing songs."
Block sued the newspaper, arguing the context of the quote made it appear he was defending involuntary "chattel" slavery, when in fact he was describing non-coerced labor. In 2018, the two sides settled the lawsuit.
Block told The Spectator last week that "slavery is wrong, evil and should be outlawed, and slavers be considered criminals and put in jail because it is a rights violation; it is an abomination." He also said he does not believe sexual discrimination to be the differentiator between male and female earnings.
At the same time the petition trying to have him fired circulates, former business student Anton Chamberlin put forth a petition urging Block receive a pay raise. Chamberlin writes that calling Block a racist and a sexist "is defamatory to the highest level," describing the professor as "a beacon of liberty in our time, and ought to be treated as such."
"I really don't need a pay raise, in the era when all universities, Loyola included, face difficult financial challenges," a bemused Block told The College Fix via e-mail. He added, "A non-monetary award would have been nice."
"As for the firing," said Block, "these students don't realize that I favor gay marriages, open borders, reparations to blacks for slavery, and that the NYTimes misquoted me, I sued them for libel, won in court, and settled on terms satisfactory to me."
In a statement provided to The College Fix, Interim Provost Maria Calzada said she disagreed with a number of Block's conclusions about race and sex, but that "Ideological diversity is critical in academic, and in the Catholic intellectual tradition."
"We have serious legal constraints on our ability to fire faculty for that which they publish, even if we find it anathema," Calzada said. "We cannot be accredited as a university without policies of academic freedom," she said.
These types of student complaints on the Loyola New Orleans campus are not unique.
Just last week, journalism Professor Sonya Forte Duhé was set to take over as dean of the Walter Cronkite School of Journalism at Arizona State University, but had her job offer revoked after several of her former Loyola students complained that she forced them to conform to white standards of speaking and appearance.
Block told The Fix that students should have some say in who teaches them because "students are our customers."
"I won't say the customer is always right, but, on the other hand, it behooves sellers in the market (universities) to at least be aware of what concerns buyers (students)," said Block.
Block noted, however, that the petition to give him a raise currently has nearly three times the signatures as the petition to have him barred from campus.
"Maybe the university should concern itself with what a majority of its customers are thinking," he said with regard to the petitions, while conceding that not all signers of either petition are students.
Nonetheless, Block told The Fix that just an accusation of racism can be "very damaging" to a professor's reputation.
"I'm far from the only free market, libertarian professor now being accused of violating the niceties of political correctness," Block said. "Happily, for my career, I have tenure, and thus am unlikely to be fired, but this does not apply to all such accused."
In her statement, Calzada said the school cannot take disciplinary action against a faculty member without the ability to present evidence during a formal process.
"At the time the petition was begun, we had no record of a formal complaint filed by a student against Dr. Block during his nineteen years at Loyola," she noted.
Block agreed that much of the scrutiny of professors in the past several weeks has been due to the national tumult following the gruesome death of African American Minnesota man George Floyd while in police custody.
"The unjustified killing of Mr. Floyd has emboldened people to make all sorts of demands: toppling statues, changing street names, and coming after professors such as me who favor free enterprise, private property, economic freedom, laissez faire capitalism," Block said.
Block is also a senior fellow with the Mises Institute and author of several short works defending libertarian ideals.
MORE: After tweet supporting 'good police officers,' Arizona State revokes journalism dean offer
IMAGE: YouTube screenshot
Like The College Fix on Facebook / Follow us on Twitter