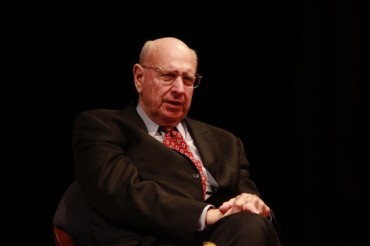 WASHINGTON, D.C. – Retired U.S. ambassador Thomas Pickering said Tuesday that media coverage over the Benghazi scandal deserves a "Pulitzer Prize in creative fiction" and reasserted his belief that former Secretary of State Hillary Clinton and President Barack Obama are not responsible for any wrongdoing.
He also emphatically insisted there has been appropriate accountability for what went wrong on Sept. 11, 2012, in an attack that resulted in the deaths of U.S. Ambassador to Libya Christopher Stevens and three other Americans.
Pickering made the comments at George Washington University in a talk titled "Beyond Benghazi: U.S. Public Diplomacy in Troubled Times" attended by about 150 students, professors, foreign service officers and military members.
Amb. Pickering spoke extensively on his experiences as co-chair of the Accountability Review Board report, which cited inadequate security and unpreparedness as largely to blame for the deaths and has been heavily criticized by House Republicans.
"Benghazi was a blow," Pickering said. "A friend tragically died under circumstances that should never be repeated."
As for exactly what went wrong in Benghazi on that fateful day, Pickering asserts his findings in the report were "quite harsh," and added American forces were "caught short."
There was, according to Pickering, an element of failed leadership on the part of many government officials in carrying out basic responsibilities in Benghazi, but said those shortcomings did not rise to the presidential level, nor to Clinton, whom he famously did not interview prior to publishing his report.
"She was not responsible, nor was the president," he said.
Instead, Pickering outlined many of the specific problems his probe determined were present in Benghazi, Libya. Local authorities and law enforcement were absent in the region, and security protection overlooked the potential damage of fire and arson at the compound.
"We learned, in fact, that fire is a weapon," Pickering said.
The diplomatic mission in Benghazi was "too big a compound" with "too few people protecting it," Pickering said.
As to the media coverage and partisanship prompted by the tragedy, the ambassador said he has seen what he calls the "worst kind of partisan strife" and an "embarrassing level of party politics at the lowest level of mud wrestling." Pickering compared the hyped-up media coverage to winning a "Pulitzer Prize in creative fiction."
Asked if there has been appropriate accountability for what went wrong, Pickering's answer was an emphatic "yes." Asked if the Benghazi incident exposed a vulnerability for Clinton if she decided to run for president in 2016, he said Clinton, as well as Obama, were not responsible for any wrongdoings.
Fix contributor Andrew Desiderio is a student at George Washington University.
Click here to Like The College Fix on Facebook. / TWITTER: @CollegeFix
IMAGE: Flickr/Asia Society