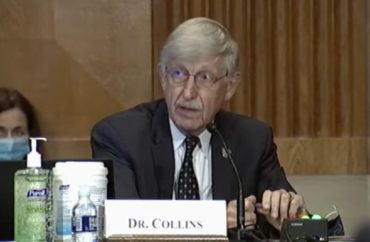 Researcher criticizes Pitt for coordination with NIH to deflect criticism of aborted fetal tissue
An accomplished medical researcher and bioethicist criticized the University of Pittsburgh and the National Institutes of Health for its request for public relations aid in support of the use of aborted fetal tissue.
David Prentice, the vice president and research director of the pro-life Charlotte Lozier Institute, spoke to The College Fix about the ethics of fetal tissue research. He studies, researches and speaks about bioethics and stem cells.
His comments came as a response to emails obtained by Judicial Watch which showed the University of Pittsburgh and the NIH, led at the time by Francis Collins (pictured), coordinated a campaign to deflect criticism of scientific research conducted on fetal tissue from aborted babies.
Jeremy Berg, an associate senior vice chancellor for Pitt, contacted Collins on October 16, 2021 to ask for media aid as a result of negative press surrounding the public university's use of aborted fetal tissue in research. The health agency responded and set up a call.
The fetal tissue research continues despite a lack of evidence that it is needed for medical research, Prentice told The Fix.
Prentice said that the "scientific record shows that aborted fetal tissue in one hundred years of experiments has produced no cures, no current treatments, and is a gruesome and antiquated research area."
He called such research "ideologically-driven grant funding" and said it is not "legitimate science."
Pitt's request for public relations aid does not reflect well on the scientific community, Prentice told The Fix.
The Fix reached out to multiple members of NIH's media team over email to ask about the nature of their relationship with Pitt and whether or not they would share media strategies going forward.
The Fix did not receive a response to an email sent in the past week and a half. Nor has Pitt's media relations team responded to multiple inquiries on the tissue research and its relationship with the national health agency.
All those involved in fetal research must be transparent and honest, Prentice said.
"The key point is that there should be transparency and truthfulness from all parties," Prentice said in his email. "Asking NIH to help with U Pitt's cone-of-silence approach is counterproductive for public trust and endangers the integrity of the scientific venture."
NIH director supports aborted fetal tissue research
Prentice told The College Fix that Collins has "spoke[n] publicly in favor of research with aborted fetal tissue as well as embryonic stem cell research."
Even researchers who wanted to use alternative, non-controversial tissue sources were pressured to use aborted fetal tissue too by the NIH, Prentice said.
According to the emails obtained by Judicial Watch, Collins dismissed concerns as "an organized attempt to delegitimize science based on fetal tissue rather than to identify misbehavior."
The university has frequently been involved in controversy surrounding its use of fetal tissue.
Last year, nearly 100 lawmakers asked the Biden administration to investigate Pitt for wrongdoing related to the harvesting of these organs.
Earlier this year, Pitt hired an independent law firm to review its research practices that involve fetal tissue. The firm said in its report "the University is fully compliant with federal and state regulatory requirements."
Prentice told The College Fix at the time that the university set up the inquiry with narrow parameters that all but guaranteed it would be cleared of wrongdoing.
"They pretty much ignored the real questions that were out there, meaning that U Pitt was squeaky clean in terms of meeting these parameters," Prentice said in February.
He also said that unborn babies cannot consent. "This tissue is derived via the death of an innocent unborn child. There's frankly no realistic way that informed consent can be given for the donation of the organs, tissues, and body parts of the child," he said. "So this amounts to trafficking body parts. Whether that's legal or not, it is definitely a lack of respect for the individual who died in this procedure."
Pitt also said previously in a statement that "[f]etal tissue research plays a critical role in advancing life-saving discoveries."
University officials "remain committed to maintaining robust internal controls and to extending our record of compliance at the state and federal levels."
MORE: Pro-life student group wants Fauci ousted over aborted fetal tissue research
IMAGE: Yahoo Finance/YouTube
Like The College Fix on Facebook / Follow us on Twitter