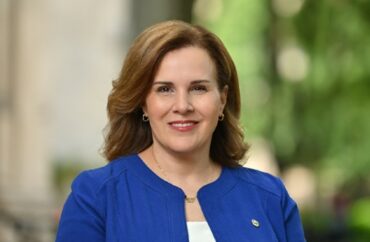 Student leaders raise concerns about new chancellor's statements on speech
The new University of Pittsburgh chancellor needs to fix the school's free speech problems, according to conservative student leaders, citing a parade of incidents during the spring semester in which conservative and center-right students and events were vilified and attacked.
Chancellor Joan Gabel comes to Pitt from the University of Minnesota, where she served as president. Gabel (pictured) started her new job in July, just a few months after Pitt grappled with several free speech issues that gained national attention and scrutiny.
Dylan Mitchell, president of the school's College Republicans, told The College Fix his chapter "won't go back to allowing [Pitt] to discriminate against us."
His group only recently won a battle against Pitt after it tried to force the Intercollegiate Studies Institute and the College Republicans to pay security fees for an event with Daily Wire commentator Michael Knowles. The event, which took place in April, ended prematurely due to a riotous crowd. Federal officials also charged a married couple with setting off smoke bombs outside the venue.
Pitt officials agreed in late August to withdraw the proposed $18,734.25 security fee levied against the conservative student groups following a legal demand letter from Alliance Defending Freedom.
Additional incidents on campus last semester include a rowdy attempt to shut down Daily Wire's Cabot Phillips during his speech and drama caused when women's sports activist Riley Gaines spoke on campus about the transgenderism debate.
Like Mitchell, Pitt's Turning Point USA student President Lili Orozco told The Fix she hopes Gabel "protects free speech and doesn't show bias as the new chancellor."
"All last year no one pointed out the distress conservatives had," Orozco said. "We were bombed and got so many threats and no one 'pointed' it out. It's only when it fits their agenda. I hope she can do a better job and we will hold her accountable to what she has stated."
The College Fix reached out on Aug. 27 to the University of Pittsburgh and Chancellor Gabel and asked how they plan on protecting First Amendment rights on campus. No response has been received.
"We will keep fighting to set an example of flourishing conservatism for universities all across the country," Mitchell told The Fix via a text message. "I'm glad that she seemed to acknowledge that our attempted silencing has been 'illegal and unconstitutional' and I look forward to working with her and the ADF to ensure Pitt's policies come into alignment with the First Amendment."
However, Mitchell also expressed concerns with Gabel's stance on what took place on campus last semester, referencing comments the chancellor made in a recent interview with The Pitt News.
Gabel reportedly said "as someone 'between conflicting viewpoints' herself, she believes exposure to 'points and counterpoints' is part of an educational environment. But she also believes it is important to recognize some of these points may cause distress."
"But that does not mean that there aren't points expressed that don't cause real and legitimate pain in different ways," Gabel told the student newspaper.
"And in some ways," she continued, "it would be very nice if we could just say anything that's painful, we won't do, but in addition to that being illegal and unconstitutional, it is a lost opportunity to fully understand the spectrum of thought, even if the outcome of that understanding is to fundamentally reject it."
Mitchell said her insinuation is that "speech she disagrees with can cause 'real and legitimate pain' and her opining that 'it would be very nice' if they were allowed to just shut down and silence conservatives, moderates, and anyone else they disagree with seems, quite unfortunately, to be a continuation of the last semester: discrimination against us, the tacit incitement of violence, and the official endorsement of the hecklers' veto against Republicans at Pitt."
Overall, the College Republican leader said he hopes to find more cooperation with this year's administration. To start, he said he thinks "an open letter apologizing for last year's discrimination and mistreatment of conservatives at Pitt" is due.
MORE: UChicago abandons free speech promise
IMAGE: University of Pittsburgh
Like The College Fix on Facebook / Follow us on Twitter