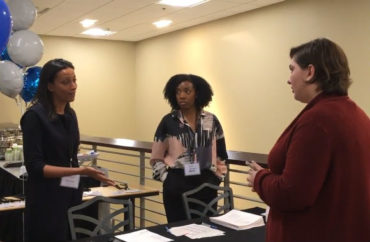 OSU administration didn't know it happened
An abortion-rights organization barred pro-life students from an open event at Ohio State University earlier this month, deeming them "security threats," according to a national pro-life group.
The incident happened at a "Stand Up, Speak Out" event hosted by Planned Parenthood Advocates of Ohio, the state campaign arm of the abortion nonprofit. The "woman's advocacy and action training" featured Cecile Richards, former president of Planned Parenthood, and activist Ai-Jen Poo.
The Ohio State administration was not aware of the incident until asked for comment by The College Fix Tuesday. Spokesperson Benjamin Johnson requested information from The Fix but did not respond after receiving it.
Planned Parenthood Advocates of Ohio did not respond to email or Twitter requests for comment. Its Facebook page does not offer a way to message the organization through Facebook.
'Not in the spirit of our event'?
Students for Life of America made its accusations in a blog post this week, including that Planned Parenthood "harassed" its OSU chapter president, Megan Ryser.
Ryser had registered online for the event that morning but didn't bring identification with her, leading a registration staffer to move her to the "unregistered table," Ryser wrote in SFLA's post.
The person manning that table told her she didn't need her ID to get in, calling it "just a formality," she continued. Another staffer gave Ryser a nametag and let her in the event after Ryser told her she saw it advertised on Facebook.
Problems started about 15 minutes later, Ryser said, when "a woman in all black" asked her to show her ID. When Ryser returned with her ID, the woman asked her how long she had been "President of the school's pro-life Club" – a detail she was surprised they knew, Ryser wrote.
Asked why she wanted to attend the event, Ryser told the woman she was "interested" in hearing both Richards and another speaker who runs a local "trafficked women's shelter."
MORE: Pro-life students ejected as 'probable disruptors' at Penn State PP event
After telling the woman she had registered for the event, Ryser said the woman told her she couldn't come back in because she was a "safety concern." When Ryser protested that she wanted to learn how to run for office – the stated purpose of the event – the woman asked her how she would feel if Richards came to one of her club's pro-life events.
The woman threatened to call security if she didn't leave, according to Ryser, leading the student to come back with another club leader who also registered that morning. (A spokesperson for SFLA told The Fix it was Allie Frazier, president of the Students for Life chapter at nearby Columbus State Community College.)
A registration staffer told the new student they weren't letting in people who had registered the same day, but offered to check with the supervisor because the new student "seemed really genuine," according to Ryser.
"The same women who kicked me out told her that some people who 'were not in the spirit of our event'" had "ruined things" for the abortion-rights group, so she wouldn't be allowed in, Ryser said, although they "apologized profusely."
Silent on whether it violated campus policies
SFLA President Kristan Hawkins contrasted the open nature of her events, where she has taken "numerous questions from pro-choice students," with the alleged exclusion of pro-life activists from a Planned Parenthood event.
"Planned Parenthood is right to be afraid of the Pro-Life Generation asking the tough questions about Planned Parenthood's corruption and the waste of taxpayer dollars that the mainstream media will never ask," she wrote in a statement.
Ohio State spokesperson Johnson told The Fix that the public university rents out space to all sorts of groups, including outside organizations.
But he did not answer whether the alleged behavior by Planned Parenthood Action of Ohio violated any campus policies, such as any requirement that all events be open to the public without regard to viewpoint.
The Students for Life of America spokesperson told The Fix Wednesday the university had not responded to its requests for more information. The group said it spoke with a university spokesperson on Thursday, but that person has not responded further.
MORE: Georgetown clamps down on pro-life activists at Richards speech
IMAGE: studentsforlife/YouTube
Like The College Fix on Facebook / Follow us on Twitter