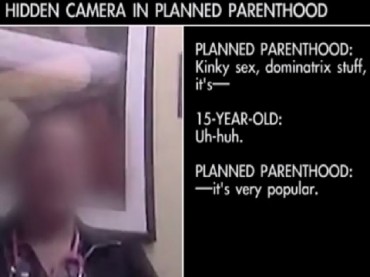 The taxpayer-funded Planned Parenthood is corrupting America's young people, and one nonprofit is dedicated to exposing just how insidious and outlandish their "sex ed" has become.
The Daily Caller reports:
Planned Parenthood sex counselors happily promote BDSM and other violent sexual practices to minors, according to an upcoming Live Action investigation.

Live Action sent actresses with hidden cameras to clinics in states across the country posing as girls under 18 to ask counselors for sex advice.

In the soon-to-be released series of videos, Live Action documented counselors encouraging girls as young as fifteen to use whips, handcuffs, gags, bondage, dominatrix-play and even asphyxiation — deprivation of oxygen — during sex. The age of consent in the United States is 16 or older, depending on the state.

The trailer also shows counselors advising these girls that pain and injury during sex is acceptable and normal.
If this is what the trailer shows, it's scary to think what the next series of videos will reveal. This is the second time a Live Action undercover investigation has revealed shocking truths about Planned Parenthood.
Watch the trailer:
Like The College Fix on Facebook / Follow us on Twitter