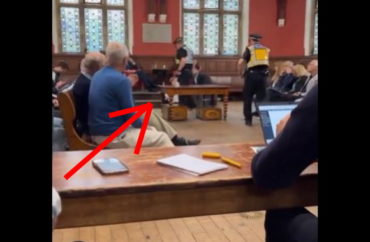 Protester received 'a loud welcome' after release
Oxford police removed a protester who sat with a hand glued to the Oxford Union floor to protest Kathleen Stock's speech today.
Stock, an English philosopher who has affirmed the male-female binary and argued that gender should not trump sex in all circumstances, spoke at the Oxford Union despite major protests leading up to the event as well.
Twitter user @rizpossnett, whose handle includes "they/them pronouns," wore a t-shirt that read "NO MORE DEAD TRANS KIDS."
"Possnett was glued to the floor in front of the speakers and refused to move, while two other protesters stood up at different ends of the room, shouting and handing out leaflets," The Telegraph UK reported.
The police eventually removed Riz Possnett and walked the individual out of the debate society building as some attendees clapped, according to a video posted to Twitter today by TalkTV journalist Oliver Whitfield-Miočić.
Video of the police coming to remove the protester who glued themself to the floor during the Kathleen Stock talk at the Oxford Union.

The police have just walked the individual out of the building.

© The Oxford Student#LGBTQ #KathleenStock #Oxford pic.twitter.com/t0DotzQRr1

— Oliver Whitfield-Miočić (@olivermiocic) May 30, 2023
Shortly after, Possnett received "a loud welcome upon being released," Whitfield-Miočić tweeted.
Protester Riz Possnett receives a loud welcome back upon being released by police after interrupting the Kathleen Stock talk at Oxford Union. #LGBTQ #Oxford #KathleenStock pic.twitter.com/6dkBk7IMLD

— Oliver Whitfield-Miočić (@olivermiocic) May 30, 2023
"This evening I glued my hand to the floor of the Oxford Union debating chamber, wearing a t-shirt which said 'NO MORE DEAD TRANS KIDS', in front of Kathleen Stock during her talk at the Union," Possnett tweeted May 30.
"Kathleen Stock is not welcome here," the user continued. "TERFs [trans-exclusionary radical feminists] are not welcome here."
"We will resist hatred, and we will fight for trans rights. Trans people, including trans youth, deserve to live in peace, safe from bigotry and harassment, with access to life-saving gender-affirming healthcare."
"I did not attempt to prevent Kathleen Stock from speaking," Possnett wrote. "Whilst I believe her speech is dangerous and hateful, she is entitled to exercise her right to free speech. I chose to exercise my own Article 10 and 11 rights to peacefully protest this speech."
The Oxford Union had stated that during the event, it would provide a "non-student support team that will remain in a separate welfare space to offer counseling and advice," according to The Times UK. 
The university's LGBTQ+ society released a statement last month condemning the Oxford Union for inviting Stock (pictured), accusing her of being a "transphobic and trans-exclusionary speaker" and the union of ignoring the welfare of the society's members under the guise of free speech, The Times reported.
MORE: Meet the Oxford professors supporting a feminist who believes biological sex matters
IMAGE: Twitter/@rizzpossnett
Like The College Fix on Facebook / Follow us on Twitter