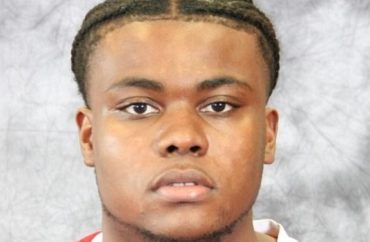 Wake Forest University hit with wrongful death lawsuit
The mother of a black student-athlete who was shot and killed at a campus party at Wake Forest University has sued the school and others, claiming officials' decision to reduce police supervision at campus parties after complaints campus cops were racially biased against black student events ultimetly led to the murder of her son.
Winston-Salem State football player Najee Ali Baker (pictured) was shot and killed at a January 2018 party at Wake Forest University. The lawsuit, filed in May 2019, alleges Wake Forest University is partially responsible for Baker's death because it failed to provide adequate security at the student-organized event on campus.
Wake Forest argues Baker's death was unrelated to security at the event.
In an email to The College Fix, Wake Forest spokeswoman Katie Neal said that "while we cannot speak to the specific details of the criminal act that occurred on campus, the tragic shooting of Najee Ali Baker was not related to the level of security at the event."
Jay Ferguson, who is representing Baker's family in the suit, declined to comment to The Fix.
Just prior to his death, Baker was attending a party at a campus venue called The Barn. The party was hosted by the Pi Omicron chapter of the Delta Sigma Theta sorority.
There, Baker and his friends came into contact with Jakier Shanique Austin and two underage companions. Neither Austin nor his companions attended college. Their interaction quickly became hostile and escalated to a fight on The Barn's dance floor, the lawsuit states.
Later that night, as Baker and others left the party and headed toward the parking lot, he came into a confrontation with Austin and his friends who, at that point, allegedly drew their weapons.
Austin then allegedly shot Baker in the stomach.
"The shooting occurred at approximately 1:01 a.m. Najee fell to the ground, bleeding and in excruciating pain. He was pronounced dead at the Wake Forest Baptist Medical Center at approximately 1:55 a.m.," the lawsuit states.
The lawsuit claims changes in the university's security policies in 2015 are to blame for Baker's death. Those changes were preceded by an incident in January 2014, when a historically black fraternity hosted a party at Wake Forest University and campus police shut it down.
"In response, Wake Forest students organized a town hall meeting in February 2014 to express and discuss their frustrations about alleged racial bias in campus policing," the lawsuit states.
"At the meeting, Wake Forest students accused Wake Forest University Police of disproportionately policing minority-run student events," the lawsuit states. "Students alleged that black fraternity and sorority parties, in particular, were subject to higher scrutiny by campus police than parties or events held by white fraternities and sororities."
"Minority students also expressed anger and frustration that they were asked for identification or given citations by campus police at much higher rates than white students."
The complaints prompted campus officials to commission an independent review of on-campus policing by two retired law enforcement officers. Their report found that while there was evidence that black student events were more highly policed than white student ones, students should not be left in charge of policing their own events, the lawsuit states.
The review had "recommended a number of changes, including ensuring that school law enforcement and administrators handle event management at the university and not students. The report also recommended that the university police provide equal security at all student events to eliminate allegations of racial bias," the Winston-Salem Journal reported.
However, campus officials, in seeking to improve relations between its police force and its minority students, agreed to implement new security measures that ultimately greatly reduced the number of university police at campus events, the lawsuit alleges.
"WFU's decision to replace trained law enforcement personnel with students and third-party event staff had particularly dramatic consequences for the safety and security of student-sponsored events at The Barn, which WFU knew had been the site of prior incidents requiring high levels of law enforcement intervention, including altercations among attendees, and presented unique circumstances and challenges requiring a certain level of police presence and security," the lawsuit states.
According to the review, events at The Barn previously required at least seven police officers and seven outsourced event staff. The procedure also required three identification checkpoints at which students would purchase tickets and receive wristbands.
The lawsuit states the security measures put into place in 2015 impacted the January 2018 party at which Baker was killed. They reduced the police presence at The Barn to a single officer, cut the number of outsourced event staff from seven to five, removed two identification checkpoints, and reduced event security costs from $2,600 to $840.
With that, the lawsuit highlights two major alleged security lapses that occurred at the party. It alleges the reduction in the number of identification checkpoints allowed Austin, a non-student, to gain access to the venue. It also claims police should have detained Austin and company after their original altercation with Baker on the dance floor.
Additional defendants named in the lawsuit include Wake Forest police personnel and Rhino Sports, the private security firm hired to handle the January 2018 party.
The case is before the U.S. District Court for the Middle District of North Carolina. The family is asking for at least $75,000 in damages. A trial date has yet to be scheduled.
Austin, who faces a murder charge, is scheduled to appear in court later this month.
MORE: 'War on Cops' author Heather Mac Donald shouted down at UCLA
Like The College Fix on Facebook / Follow us on Twitter