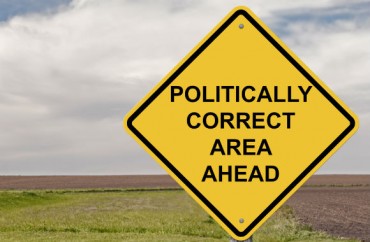 University communities never cease to amaze us with their capacity for politically correct adolescent antics. Each year the inanity quotient gets a giant uptick.
What are some of the possibilities in the year to come? Your friendly neighborhood assistant editor speculates …
—"White Fragility" author and speaker Robin DiAngelo will drop a sequel titled "White Brittleness" in the first half of the year. Wait, make that the second half of the year as she is booked for appearances through March — at $10,000 to $15,000 a pop. "Brittleness" will focus on racism as literally a part of everything, even things you'd never, ever suspect (DiAngelo does have a PhD in multicultural education, after all). Buying a new washer and dryer? The name of the manufacturer can be traced back to 18th-century slaveholders. Sending a letter and putting the flag up on your mailbox? Remember what the American flag represents. Educators referring to what they write on with chalk as a "blackboard"? How dare you.
—Student and faculty activists will push for further PC edits to old movies and TV shows. We're not just talking about race, gender, and sexuality mind you. Like the recent excision of Donald Trump from Home Alone 2, any evidence of GOP/conservative lawmakers will be stricken from the record, so to speak. Gerald Ford from "Saturday Night Live"? Gone. Richard Nixon in "Laugh In"? Poof. Newt Gingrich on "Murphy Brown" and Nancy Reagan on "Diff'rent Strokes"? See 'ya.
However, segments like the country bar scene in 48 Hrs. (NSFW!) can keep Eddie Murphy's profane references to white southerners and country music types due to "societal power differentials."Still subject to censorship would be Murphy's use of gay slurs and his foes' n-word retorts.
—Climate change activists will up the ante still further. With the discovery of exoplanets, climate radicals will engage in a sit-in at NASA to demand that mankind (oops, humankind) engage in absolutely no terraforming when it has the means to reach these new worlds. "It doesn't matter if there is no sentient life on a planet," said one exo-climate activist. "The planet deserves the right to develop naturally without interference from us."
—Everyone will be pressured to end their first name in "x." It won't just be "latinx" or "alumnx" anymore. To show solidarity with the transgender community, college students, faculty, and eventually everyone will be pressured to either add an "x" to their first name, or replace its last letter with an "x." By this time next year I might be "Davex Huber," while The Fix's associate editor may become "Grex Piper." One trans activist noted "Our next goal is to make sure these 'x's' are transferred to people's birth certificates so that their commitment is forever enshrined."
—Colleges will no longer have buildings named after white men. In 2020 it won't matter if a college edifice is named after Jesus Christ himself; if the honoree is a Caucasian male, the building's moniker will change to honor a female and/or member of a "marginalized" community. Or, it just may be assigned a number. Critical race theorist I. M. O. Prest indicated such a policy is a "step in the right direction" to shifting the "power balance" to historically exploited communities.
—Coal miners, auto mechanics, and others will need "instant cleanup" stations to prevent "blackface." Race activists will demand that "insta-wash" stations be provided by coal mining companies, auto shops (nationwide chains and locally owned outlets), and other professions where workers' heads and faces get excessively dirty, so employees can get clean at a moment's notice.
"It's worth the cost," said one activist. "Blackface has such a sordid history in the United States that we feel even if a bit of grime on your face is inadvertent, like while working, it should be rectified ASAP. Especially in circumstances where there may be African-American customers."
Here are a few others:
—During Halloween on American campuses, students will be permitted to dress up only in (recyclable) brown paper bags.
—"Whiteness" not only will become a major field of study, but could become an entire college within many universities.
—In order to make sure students feel welcome, wanted, and feel that they won't get hurt, colleges will install padded walls in dorms and rounded corners on all dorm furniture. In addition, new "We Love You" staff will be on call 24/7.
—A new app called "Insta-mand" will, at the push of a button, offer up a potential list of demands a student can present to campus officials at the merest perceived race/gender/sexuality slight.
¡Prospero Año Nuevo!
MORE: What would the Politically Correct Hierarchy Handbook look like?
MORE: College humor publications stick to 'politically correct' jokes
IMAGE: Shutterstock.com
Like The College Fix on Facebook / Follow us on Twitter