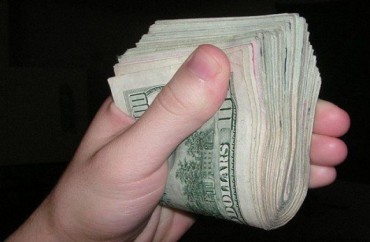 Not many people go into teaching for the money, whether it be primary school, high school, or even college.
However, if you want to use an education degree to make some real money, here's what to do: Offer your services for staff trainings centered on participants' white guilt.
According to the Daily Caller News Foundation, leaders of such seminars can make more in one day than what the "median black household makes in three months."
Popular (and Caucasian) "white fragility" lecturer Robin DiAngelo got a cool $12,000 — not counting travel expenses — from the University of Kentucky back in March for a two-hour session on "racial justice." Tickets for a recent half-day event in San Francisco featuring DiAngelo went for $120 (adults) and $65 (kids) apiece.
And get this: DiAngelo's contract states her schedule "cannot accommodate phone calls related to services." If a call is absolutely necessary, her fee is $320 per hour.
As of this moment, DiAngelo's schedule is booked solid through March of 2020.
The University of Washington professor, who holds a PhD in multicultural education, coined the term "white fragility" which she describes as "a state [for white people] in which even a minimum amount of racial stress becomes intolerable." Her website contends "racism is the foundation of Western society; [that] we are socialized into a racial hierarchy."
"White fragility" trainings for educators recently were endorsed by the National Education Association Representative Assembly.
DiAngelo's fee typically runs between $10,000 and $15,000, a city official in Everett, Washington, where DiAngelo keynoted a conference in April, told the DCNF. The city government promoted the conference on its website, but the official said all costs were covered by an outside nonprofit, Communities of Color Coalition. The nonprofit didn't return the DCNF's inquiries.

DiAngelo's clients include Amazon, The Bill & Melinda Gates Foundation, The Hollywood Writer's Guild, the YMCA Seattle Public Schools and City of Oakland, among others, according to her website. DiAngelo did not return multiple requests for comment. …

Left-wing [and white] academic Tim Wise, author of the book "White Like Me", charges handsome speaking fees that rival DiAngelo's.

A speaker's booking agency lists Wise's speaking fee in the $10,000-$20,000 range. Wise told the DCNF in an email that his asking fee is typically limited to $10,000, "unless I am doing multiple events at a venue."

He added that the agency, which receives 25 percent of his fees, "puts money back into grass-roots organizing and leadership development led by individuals and groups of color. So between that, and the fact that they promote an overwhelming share of [people of color] on their roster, my working through them actually helps to amplify the voices of people of color, not just my own."
Wise also told the DCNF that if his speaking fee is higher than that of a person of color with whom he shares a forum, he'll lower it "to meet theirs."
Like their Caucasian counterparts, minority racial workshop leaders Glenn Singleton and Darnisa Amante (of the Pacific Educational Group and Disruptive Equity Education Project respectively) also make the big bucks … and on the public's tab, too. New York City has paid Singleton over half a million dollars and is contracted for a total of $775,000. Meanwhile, Amante's outfit has received $175,000 from the city.
Read the Daily Caller article.
MORE: 'White fragility' inventor: Whites must stop becoming teachers
MORE: Tim Wise tells Harvard that Christians should be 'locked up'
Like The College Fix on Facebook / Follow us on Twitter