It appears the political correctness grinch hasn't entirely stolen away the Christmas joy on campuses.
The vast majority of students recently surveyed said it is not offensive to wish "Merry Christmas" to a stranger, according to a College Fix poll.
The online poll asked roughly 1,000 college students: "Is it offensive to wish 'Merry Christmas' to a stranger?"  Eighty-eight percent responded it is not. Another 8 percent said they were not sure. And finally 4 percent said yes, it is offensive.

While the results might be surprising given the chokehold political correctness has on college campuses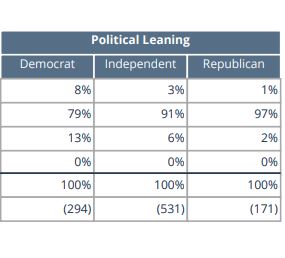 today, they ring similar to a national poll taken in 2016 of 1,224 registered voters that found only 3 percent of respondents were personally offended by "Merry Christmas."
The student poll was conducted last week exclusively for The College Fix by College Pulse, an online survey and analytics company focused on college students.
The Fix poll questioned roughly 1,000 students — 294 Democrat students, 531 independents and 171 college Republicans. Eight percent of Democrat students said it's offensive to wish someone a Merry Christmas, 3 percent of independent students said it was, and only 1 percent of Republican students found it offensive.
In other words, Democrat students are eight times as likely as Republican students to say it's offensive to wish "Merry Christmas" to a stranger.
(Chart: top row is "yes, it's offensive," second row is "no it's not," third row is "not sure," and fourth is refused to answer.)
In the comments section of the survey, where students have the option to weigh in on the poll question, a variety of responses was fielded:
UMich: It's normally just a way to be friendly. It doesn't need to be taken too seriously.
CSUSM: Are they wearing a clearly Christmas or clearly non-Christmas sweater? I know I'm thinking deep on this, but it kinda varies.
Lindenwood University: I don't celebrate Christmas and still don't care if you wish me one. I don't get why that would be offensive.
Colorado School of Mines: What an absolute joke. People saying yes are ABSURD and I'm an atheist. … I don't like Chevy's but I don't get offended when someone drives by me in one. Learn to cope with society.
UW Whitewater: There's nothing wrong with saying happy holidays. That's my preference too. But that doesn't mean it is offensive to wish someone a merry Christmas.
Oklahoma: I'm just happy when anyone wishes me anything. Merry Christmas, Happy Hanukkah, Happy Holidays, whatever. I just think it's nice that someone took the time to wish me good tidings.
Arizona State: It's just more polite to say "Happy Holidays" because you don't know what people celebrate (if anything) and it's a very low effort way to include everyone in your well wishes.
UIC: I'll be deep in the cold, cold ground before I recognize Kwanzaa.
Miami University: THERE IS NO WAR ON CHRISTMAS OMG.
Rutgers: Just say "Happy Holidays." Not everyone is a Christian nor does everyone celebrate Christmas. It's not that deep.
South Carolina: I'm Jewish and idgaf.
Ohio State: I'm atheist and not only do I say "merry Christmas" but I make a point to reply to "happy holidays" with it lol.
CU Boulder: I'm not Christian and celebrate Christmas. I don't even care if you wish me a Happy Hanukah. Whatever your seasons greetings I delightfully accept the gesture. It's the seasonal way of saying have a good day.
MORE: Don't be afraid to wish someone 'Merry Christmas' this year
IMAGE: Roman Samborskyi / Shutterstock
Like The College Fix on Facebook / Follow us on Twitter