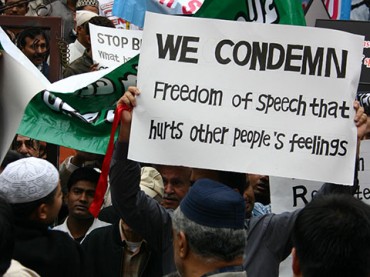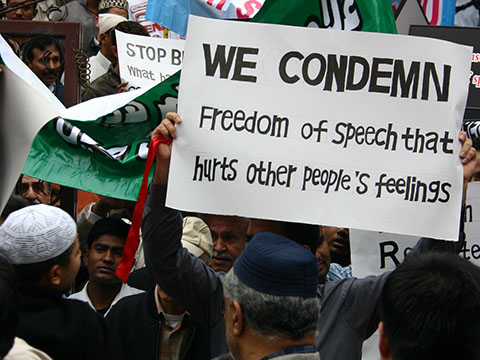 In a recent You.Gov poll, 51 percent of Democrats are in favor of reining in First Amendment free speech freedoms … if the speech is "hate speech."
The shouldn't come as much of a surprise as (progressive) college administrators are those who typically favor the establishment, and enforcement of, campus speech codes.
And these speech codes too often count as "hate speech" legitimate criticisms of topics such as affirmative action, gender issues, and immigration.
Hans Bader at Liberty Unyielding reports:
Earlier this year, U.S. Civil Rights Commission member Michael Yaki, a staunch liberal, declared that speech on college campuses, including but not limited to "hate speech," should be restricted to protect young people's developing brains. Yaki is a former senior advisor and district director for House Minority Leader (and former Speaker) Rep. Nancy Pelosi (D-Calif.). (During the Obama administration, the Education and Justice Departments have also sought to restrict students' free speech and due process rights on college campuses and in the public schools). Yaki argued that "how the juvenile or . . . young adult brain processes information is vastly different from the way that we [older] adults do."

Liberal bureaucrats already sometimes find that supposed "hate speech" creates an illegal racially "hostile work environment" when it occurs in the workplace, such as this recent example in North Carolina defining a dubious complaint about anti-white bias as "racial harassment." A wide array of speech about religious, racial, and sexual topics is now being suppressed by bureaucrats and college officials under the notion that it constitutes "harassment" of listeners or contributes to a "hostile environment" for those who overhear it.
Bader goes on to point out that, at least for now, the US Supreme Court has protected free expression in the public sphere. But leftist legal academics continue attempts to circumvent the First Amendment by, among other things, claiming "offensive" speech "is at odds with 'customary international law' (which they define to include even treaties that the U.S. Senate has never ratified)."
Like The College Fix on Facebook / Follow us on Twitter
IMAGE: Sam Graham/Flickr