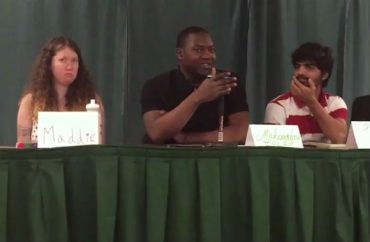 UPDATED
Leaving out 'context' threatens subjects of coverage
Finding itself on the defensive for a personnel decision that seemed to privilege comfort over accurate reporting, Portland State University's campus paper is fighting back.
But its editor-in-chief's explanation for why Multimedia Editor Andy Ngo was fired raises as many questions as it answers.
The Vanguard dumped Ngo, who is also a College Fix contributor, after he tweeted two videos from an interfaith panel discussion on his personal account.
The first video, a shorter clip, showed a Muslim student answering a question about whether the Koran sanctions the killing of non-Muslims. He said that non-believers in countries ruled by "Koranic law" can either leave or face punishment, which Ngo interpreted as death. A longer clip showed the context and audience response.
Without identifying Ngo as a staffer until the day before, a Vanguard story about the panel discussion said Ngo's tweets were "widely shared out of context." In a lengthy editor's note, the Vanguard said those tweets "placed a PSU student in significant danger" and violated journalism norms. (The story used screenshots of Ngo's texts rather than embedding them, meaning readers couldn't click through to see his full thread, which included two more videos and more context.)
After Ngo criticized the paper in National Review for its treatment of him, The Fix asked Vanguard Editor-in-Chief Colleen Leary to respond.
Ngo also gave The Fix a "timeline" letter he wrote to Leary but never sent, warning her that he would file a public-records request for "any communication" related to his work at the Vanguard. He also accused her of "unfair retaliation."
Should have shown Muslims lived 'peacefully throughout history' with non-Muslims
In an email copied to Ngo and Managing Editor Tim Sullivan – who sat in on the meeting where Ngo was fired – Leary told The Fix that Ngo's article and our coverage were "inaccurate," and pointed to a column she published Saturday.
Ngo's column has "placed the Vanguard under significant scrutiny resulting in unjust threats and false assumptions," Leary wrote in her Saturday column.
He was not fired "for reporting the truth," nor for his tweets getting picked up by Breitbart and other outlets, Leary said. She praised Ngo's previous work for the Vanguard as "accurate, quality journalism that includes full context, accurate quotes and nuanced investigation."
I thought I was going into lion's den of white nationalists when I went on @BreitbartXM. Instead, I spoke to brown ex-Muslim, @RaheemKassam pic.twitter.com/zdWjPr9U53

— Andy C. Ngo (@MrAndyNgo) May 15, 2017
Rather, it was his "dangerous oversimplification" of the unnamed Muslim student's comments on the panel that violated the Society of Professional Journalists' ethics code, and resulted in Ngo's dismissal.
"The speaker did not say the words used to caption the video when it was shared," Leary said, referring to Ngo's interpretation of the Muslim student's euphemistic response to the question of the Koran and killing.
She also cited Ngo's failure to "provide further clips" from the panel that describe how Muslims and non-Muslims have lived "peacefully throughout history." He had to be "prompted" to add the context, she said:
Given the way the clip was shared without necessary context, this was interpreted, shared and touted as endorsement of murder or banishment of apostates, while no such endorsement existed at the interfaith event or later when the Vanguard spoke to the student panelist. The student speaker was criticized and threatened without the opportunity to clarify from his own perspective.
Nothing Ngo wrote implied that the Muslim student endorsed murder or banishment.
In response to Ngo's claim that Leary did not respond with "outrage" when he sent her his initial tweet, Leary said she didn't watch the video before it went viral, because Ngo often shares media from events he attends and he was a veteran staffer, well-versed in Vanguard ethics:
Unfortunately, this video was something that should have caught my immediate attention.

I regret not reviewing it sooner, as perhaps then we might have somehow prevented this ethical misstep from being further shared with an audience that is more interested in perpetuating a particular narrative and inciting reactions than actually reporting truth.
She also rejected Ngo's quotes from their meeting, saying she did not personally call him "reckless" and "predatory" but only described his actions that way. But oddly, she quoted him saying something he didn't:
The decision to remove Ngo from his position was not an attempt to rectify the reputation of the Vanguard—words I also did not use.
Here's what Ngo actually wrote:
She said I had "a history" of affiliation with conservative media, and argued that that history was toxic to the "reputation of the Vanguard."
Leary's only concern, she wrote, has been how the media's omission of context can threaten the subjects of coverage:
I am disheartened by the continued lack of acknowledgement or concern for the careless oversimplification of the panelist's comments and the potential danger in which [Ngo] placed a student in his own community. A person's religious identity or otherwise should never be a factor in whether or not we report full, ethical truths within the necessary context.
Though she praised Ngo's previous writing for the Vanguard higher up, Leary suggested that Ngo has been raising eyebrows for a while:
The decision to remove him from his position was the result of ongoing breaches in trust and actions that were counterintuitive to the mission and editorial expectations at the Vanguard.

The Vanguard has never removed a team member from a position for making one mistake.
Leary has not responded to a Fix query to explain several unclear parts of her column, such as Ngo's "ongoing breaches," whether she would have asked him to remove the original tweet if she had looked more closely, and the nature of the "unjust threats" the Vanguard has received.
She also did not answer what threats the Muslim student has faced as a result of Ngo's tweets.
@BreitbartXM @RaheemKassam My message to the Muslim panelist at the center of the controversy. Please listen to a clip of my interview with @RaheemKassam. pic.twitter.com/xdHjjlrnMp

— Andy C. Ngo (@MrAndyNgo) May 15, 2017
Journalism adviser Reaz Mahmood, who allegedly told Ngo he should have considered the plight of victimized groups in the "current political climate," told The Fix that he asked students to "take different perspectives on complex matters":
This piece, unfortunately, is incomplete and misleading, but as a media advisor, I will not comment further on a student organization's internal personnel matter.
He has not answered a followup query on how students can fairly portray "complex matters" while still live-tweeting bits and pieces of their event coverage, a common practice among college newspapers.
'There is only one sharia'
Ngo told The Fix he wrote his timeline letter to Leary right after the meeting where he was fired and "my memory was fresh."
The letter says Ngo produced "several follow-up tweets" expanding on the first short video. Four days after the event, Leary asked him "one-on-one" if he had disclosed the Muslim student's name, which he did not.
Using slightly different language than his National Review column, Ngo says Leary accused him of "reckless and predatory tweets" against a student and "this affects the perception of the paper" even though it was Ngo's personal account.
Ngo says he told Mahmood, the adviser, that he asked the Muslim student for clarification of his views after the event, and the student replied "There is only one sharia."
Jacob Johnson, the reporter who covered the panel discussion for the Vanguard, "aggressively" asked Ngo why he didn't share the "whole video" and accused him of attributing "killing" to the Muslim student:
I reminded Jacob that the speaker was answering a question about if Quran 5:32 excludes infidels from being killed.
That's in "stark contrast" to Johnson's emails to Ngo after he shared his tweets with the reporter. According to Ngo, Johnson said he was "glad" the Muslim student "discussed this" and thanked Ngo for the tweeted video.
Ngo thanked Leary and other editors for their "courageous" publication of other controversial stories he has written, but added:
I believe I have been unfairly targeted in an act of censorship and political correctness. … I wonder if my firing is in retaliation for Breitbart using my public tweets in their story. There was no strong reaction from you or Jacob Johnson until after Breitbart published the story based on public information.
He then issued his public-records warning. Ngo told The Fix in an email he had been considering legal options before sending the letter, but an attorney told him he "had no case" because he hasn't suffered damages.
Ngo said he has been "very clear to not mention" the Muslim student's name because the newspaper "alleges that his life was put in danger," though it has never given evidence of this threat: "I asked and they never answered clearly."
Asked @psuvanguard about covering #ExMuslim persecution, they cited the article by @MrAndyNgo whom they fired for covering the issue #logic pic.twitter.com/nB45QXaLJR

— Muhammad Syed (PBUM) (@MoTheAtheist) May 13, 2017
This shows the paper 'will hastily and publicly criticize' anyone it dislikes
A PSU student who is engaged to Benjamin Ramey, the atheist on the interfaith panel who has defended Ngo's interpretation of the Muslim student's comments, contacted The Fix to share a letter she had written to the Vanguard.
"I have been deeply disheartened by the choices The Vanguard has made as of late," Nina Schmidt wrote in an email.
Her letter asks what is the "true purpose" of Johnson's story about the panel discussion, which spends "an inordinate amount of time" alluding to Ngo and his tweeting before disclosing the paper's conflict with Ngo at the end:
I feel ill knowing that the Vanguard would publish work seemingly targeting students. …

How am I to know, as a student at PSU, that I cannot attend a public open discussion, without risking personal embarrassment for simply being present and choosing within my rights to write and post on that event?
Schmidt accused the paper of offering many clues about the identity of the Muslim student while disingenuously claiming it has "protected" the student from danger:
My underlying question here is, what exactly is this person being protected from? It is my understanding that this event was a public forum and panel in which open ended discussion took place. A panelist, who volunteered for his position, chose to answer a question to the best of his ability and knowledge, yet is now sought to be safeguarded? Why? If there is a "misunderstanding," why was it not explicitly addressed in the article, and why would it merit such a dramatic response from the Vanguard, with no apparent clarification?
It is the Vanguard that has abandoned its ethics, Schmidt said:
All of this evidence raises the question that perhaps the Vanguard merely sought to create a negative story, while for some bizarre reason unexplained, and simultaneously target PSU students. I am shown that if the Vanguard has any negative regard for an individual on campus, the Vanguard will hastily and publicly criticize that individual without regards to basic ethical standards and individual personal safety.
Schmidt told The Fix she has received no response from the Vanguard.
Another open letter to Leary has been making the rounds on social media. It was written by the anonymous liberal ex-Muslim who publishes the blog Reason on Faith:
There was no context that could put the Muslim speaker's remarks in a different light. I hope that you see this now.

Death-for-apostasy is a well established belief within orthodox Islam. There was an understandable moral outrage to the remarks made by the Muslim speaker at the interfaith event. That is not the fault of Andy Ngo. He was just the messenger.

Consider this hypothetical: the current health care bill to repeal and replace Obamacare dropped the provision to provide coverage for pre-existing conditions. Would you fire Andy Ngo for sharing the views of a member of congress admitting to this embarrassing reversal of an election promise? Would you cite as justification, that ultra-far-left media outlets could use this to put the congressman's safety at risk in his next local town hall meeting? …

Firing Andy Ngo is not the way to protect the Muslim student and I believe that you owe Andy Ngo an apology. Publish an op-ed from the Muslim student if you'd like. Encourage him to clarify his position on this topic.

Realize that when you invoke punitive measures on your staff for merely reporting the facts, the message that we ex-Muslims hear is that you care more for the rights of those who oppress with murderous injustice than the victims and the targets of death-for-apostasy doctrine.
CLARIFICATION: The article has been amended to clarify that the Vanguard report about the panel discussion did include Ngo's name in screenshots of his tweets, but it did not identify him in the body of the story or his position on staff.
MORE: PSU paper fires editor for quoting Muslim student's Koran comments
Like The College Fix on Facebook / Follow us on Twitter
IMAGE: Andy Ngo/Twitter