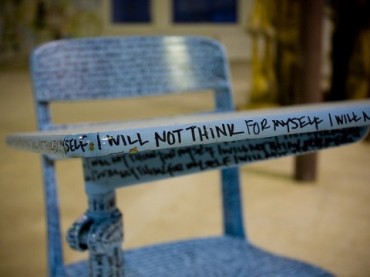 Ethnic studies educators at Cal State University Los Angeles who feared their departments' could waste away due to waning student interest have successfully convinced their peers to add a race/ethnicity requirement to graduate.
In a recent controversial vote – preceded by student and faculty protests claiming ethnic studies face extinction – the public university's academic senate agreed to require that one of two mandated diversity courses needed to graduate must focus specifically on race and ethnicity.
As it stands, Cal State LA students must take two diversity-related classes to graduate, but neither must deal specifically with race and ethnicity.
This new race-ethnicity mandate comes as CSULA examines and updates its general education curriculum to ensure compliance with new California State University system-wide requirements for its 23 campuses, said Dr. Kevin Baaske, a communications professor and chairman of the academic senate at CSULA, in an email to The College Fix.
When the campus' general education review committee sought to expand and broaden the definition of diversity as part of this process, it prompted an uproar from the ethnic studies faculty and its students in what Inside Higher Ed described as "part ideological debate and part departmental turf war."
"The Academic Senate decision followed at-times-heated discussions among faculty and student protesters about just what diversity is and who should be teaching about it," Inside Higher Ed reported, noting faculty who were against forcing an ethnic studies class on students argued it would add an onerous requirement at a time when competition among universities is fierce.
But ethnic studies faculty said the requirement would increase the number of students taking classes in smaller departments and prove vital in such a diverse region.
"(S)ome senators expressed concern that broadening the definition of diversity might lead to students completing (general education) without specifically examining race and ethnicity," Baaske said in an email to The Fix. "They thought that unforgivable given the diversity of our student body."
Almost 90 percent of the students who attend CSULA are students of color.
"There was also fear that expansion of the definition of diversity would further threaten some of the Ethnic Studies programs/departments at CSULA," Baaske added. "Some of these programs already have few majors and a limited number of course offerings. Even though both the president and provost issued statements assuring the campus that the Ethnic Studies programs were not at risk, some senators thought such a change would be not only good for our students, but also good for the Ethnic Studies programs."
He said students who spoke in favor of the race requirement had proclaimed that the courses "opened their eyes to other ways of thinking about history and contemporary society … (and) made a significant difference in their lives."
Inside Higher Ed reports some academic senate members felt "intimidated" by the protests, and in the end, the vote for the ethnic studies general requirement passed 33 to 18.
"Given the diversity of our students, given the changing nature of society, and given the difficulties of addressing questions of race and ethnicity in the public sphere, requiring one course that focuses on race and ethnicity seemed a good idea to a clear minority in the senate," Baaske stated.
In a compromise of sorts, students may choose a race/ethnicity course offered by any department – not solely by an ethnic studies department or program, the faculty agreed.
College Fix contributor Alexandra DeSanctis is a student at the University of Notre Dame.
Like The College Fix on Facebook / Follow us on Twitter
IMAGE: Mikey Roach / Flickr