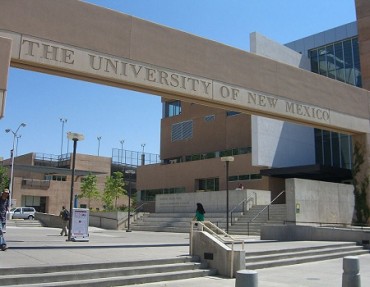 Referring to a lesbian character as having a "perverse attraction to the same sex" and a "barren womb" got a student at the University of New Mexico kicked out of her film class.
A federal judge has now approved her First Amendment lawsuit against the school to go forward, the Albuquerque Journal reports, rejecting the school's claim that professor Caroline Hinckley's action against Monica Pompeo was "reasonably related to legitimate pedagogic concerns":
The lawsuit alleges Hinkley violated her own syllabus, which called for "open minds" to examine "representations of a plethora of genders and sexualities." Instead, Pompeo says, Hinkley accused her of resorting to "hate speech" and refused to grade her paper. The professor also made it clear that it would be in Pompeo's best interests not to return to the class, Pompeo alleges.

Later, Pompeo met with Hinkley's supervisor, Susan Dever, chairwoman of the cinematic arts department. Pompeo was told that the use of "barren" was both inappropriate and offensive.

The upshot of the meeting was that Pompeo was forced to drop Hinkley's class and instead take an independent studies class under Dever.
Oh, so it all worked out, right?
According to Pompeo's lawsuit, however, she fared no better under Dever, who allegedly threatened her with repercussions for using certain language, specifically the word "barren."
Judge Christina Armijo questioned whether a "university can have a legitimate pedagogical interest in inviting students to engage in 'incendiary' and provocative speech on a topic and then punishing a student because he or she did just that."
h/t Foundation for Individual Rights in Education
Like The College Fix on Facebook / Follow us on Twitter