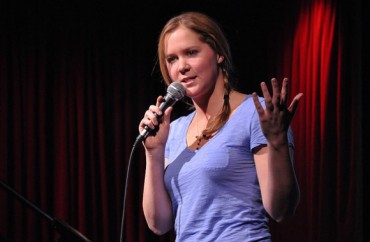 Amy Schumer is a comedienne who became nationally known because of NBC's Last Comic Standing.
She's popular right now, host of her own eponymous show on Comedy Central.
You may have seen her sketch "80s Ladies."
She did a made-for-tabloids kiss with her former 30 Rock colleague Tina Fey a couple weeks ago.
And she's partly responsible for Dylann Roof's race-driven murder of nine people in a black church in Charleston. Seriously.
That's the argument made by professors at American University and Washington State University in a Washington Post op-ed.
You see, Amy Schumer makes jokes about race, like accusing Mexicans of being hard workers. She called Latinas "crazy" at the MTV Movie Awards and joked in an older stand-up routine that she "used to date Latino guys" but now prefers "consensual."
She was recently featured in an unflattering Guardian story for her "shockingly large blind spot around race" and delving into "racial territory tactlessly and with no apparent larger point."
That's the jumping-off point for American University's Stacey Patton and WSU's David Leonard (a white man who chairs a "gender and race studies" department in an extremely white state) to compare Schumer to Donald Trump.
They both make "cultural stereotypes and use dehumanizing language that gives life to an ecosystem of racial fear and violence," Patton and Leonard write:
A blind spot is not finding humor in the systemic exploitation of Mexican workers. A blind spot is not making jokes that depict Latina women as crazy. Nor is it a laughing matter for a white woman to suggest that Mexicans, or other men of color, are natural-born rapists.
And because jokes "provide a safe vehicle to share stereotypes, release inhibitions  and spread racism," Amy Schumer is an accomplice to murder:
It contributes to a worldview that justifies a broken immigration system, mass incarceration, divestment from inner city communities, that rationalizes inequality and buttresses persistent segregation and violence. Yet nobody wants to take responsibility for spewing rhetoric that breeds the fear that results in soaring gun purchases, that "inspires" monsters like Dylann Roof to craft a manifesto with deadly consequences.
I know very little about Amy Schumer other than she's a potty-mouthed feminist – in other words, the intellectual heir to now-quaint comediennes like Janeane Garofalo. whom I saw perform in an East Village comedy club a few years ago. (Her best work remains the camp director in Wet Hot American Summer, soon to get a Netflix reboot.)
But Schumer most reminds me of an earlier comic whose racial humor was transgressive and gut-bustingly hilarious: Lisa Lampanelli, whose jokes started with dating black men and went on from there. Guess who was typically at the front of the audience? Black men.
Schumer claims she's portraying an "irreverent idiot" in her standup and she's not about to stop making race jokes, because "playing with race is a thing we are not supposed to do," so of course it's great comedy. Joking about "safe material" is lame, she says.
Put down your torches before reading this so you don't catch on fire. pic.twitter.com/JyRQGvFuX8

— Amy Schumer (@amyschumer) June 28, 2015
It seems a wee bit extreme to accuse a person who tells jokes for a living of complicity in a shooting rampage in a house of God, as Patton and Leonard do. (She's certain no Dieudonne.) And it seems utterly ridiculous to demand that comedians must fit a certain mold to be considered legitimate social critics:
Comedy has always played an instrumental role in advancing social justice, in pushing society to look into the mirror, to reflect on the inconsistencies and contradictions. Schumer herself has shined a spotlight on rape culture, misogyny and sexism. But when it comes to race, she betrays this tradition. Blind or not, joking or not, Schumer used her stage to play and profit off race while people of color are bearing the brunt of racial violence.
These ivory-tower perma-frowners would do well to consider the idiocy of top-down mandates applied to comedy, as Yakov Smirnov told WNYC's On the Media in a segment about the Soviet Union's regulations for humor:
BOB GARFIELD: Smirnoff says that once a year comedians had to submit their jokes to the Department of Humor for approval and were prohibited from straying in any way from the approved material in their acts.

YAKOV SMIRNOFF:  We had pretty strict guidelines. We couldn't talk about government, politics, religion or sex. The rest was fine.

BOB GARFIELD:  [LAUGHS] In other words, 97.3 percent of all the subject matter of all comedians all over the world throughout history.

YAKOV SMIRNOFF:  Yeah, we can talk about fish, buttons, animals.
It appears that Schumer is learning at a relatively young age what Jerry Seinfeld and Chris Rock have learned over many years: It's not worth appeasing the college crowd if you want to have a successful career in comedy. The delicate sensibilities of students and professors are just the latest version of the Department of Humor.
Like The College Fix on Facebook / Follow us on Twitter
IMAGE: 92YTribeca/Flickr