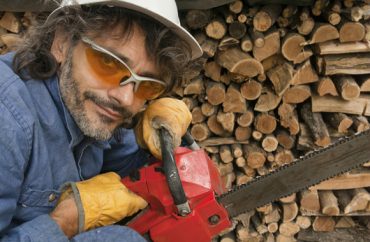 Loggers are showing the Golden State just how much they're worth
TV personality Mike Rowe of "Dirty Jobs" fame has popped up again recently to defend America against college flag-haters. He even took the stage at Meet the Press to talk about Donald Trump's appeal to Rowe's blue-collar audience.
He's America's foremost promoter of jobs that don't require a college degree – some of them dirty, yes, but many of them well-paying, if you're willing to do something other than clack away at a keyboard in an office.
I thought of Rowe, as well as my own family in Oregon, as I read this excellent Los Angeles Times feature on the loggers who are making big bucks off California's environmental problems.
The popular conception of loggers is that they rip history out of the ground whenever they fell a tree; they're destroying America's ecological heritage; they cheer whenever you print an email.
But as Californians are learning, loggers actually save the environment, property and even lives when Mother Nature strikes and policymakers pave the road to hell with their good intentions.
A sweet spot between union work and trade school
Reporter Thomas Curwen gets up close to the folks who are racing against time to take down an estimated 102 million dead trees that invite out-of-control wildfires and threaten homeowners nestled in the forest.
Those numbers are inflated by long-term drought and shortsighted environmental policy – spotted owls are worthless if the forest burns down – but the dire situation is a boon to communities that know how to expertly remove these hulking death traps:
"There is a Gold Rush for those of us who are willing to bust ass," says [Niles] Kant, who charges $1,700 a day for his services.

Kant, 49, owns the Huntington Lake Tree Service, one of more than two dozen outfits working along California 168 that begins just east of Fresno and ends at Huntington Lake, elevation 7,000 feet.
Guess who takes these jobs:
Kant employs mostly young men in their 20s, who started working straight out of high school. Union work was too unpredictable, trade school to expensive. They are drawn to the excitement and danger of the job — and the pay ($14 to $20 an hour based on experience).
MORE: Nearly 64 percent of jobs don't require college education
Kant went from the Marines to resort cook to a pretty cozy life in less than 20 years, built on meaningful hard work:
He recalls his first tree, nearly 4 feet in diameter and 60 feet tall. He charged just $50, and it took him two days to bring it down.

Now if he's running three crews, he can make more than $5,000 a day, a sudden prosperity that's welcome after the recession. In the past year, Kant has purchased three cabins, expanded his fleet of trucks and utility vehicles and owns more than 40 chainsaws. …

He's proud of the jobs that he can offer his family and the young men (and one woman) who come from an area with high unemployment and few opportunities to get ahead.

"Niles was at the right place at the right time with all the right skills," says his friend Steve Gillette, 65, who looks at the business boom and wishes he were younger. "I'd be a millionaire in two years and retire in five."
An economy that grows organically
Even as California suffers under these conditions, the economies surrounding the loggers are humming:
The work is bringing in crews from as far away as Louisiana and Florida, who have signed leases for long-term vacation homes. Properties that once rented for $2,500 a month are now going for $3,500 to $4,000, says Tami Myers, a local real estate agent.

Business has also energized Cressman's General Store off 168. Crews meet each morning in its parking lot for safety meetings, which leads to a rush on coffees and breakfasts. Cressman's manager Keith Davis says business is up 30% to 40%.
None of this prosperity came from some socially awkward Harvard grad making an app that lets you rate hotties and hook up with strangers. The work serves a compelling, honorable, human purpose, and its network effects are tangible.
It's sweaty and dangerous and requires fine-tuned problem-solving skills. It's a daily team-building exercise without the schmaltz.
And it can be yours without blowing $200,000 on an education that will leave you more resentful than ennobled.
MORE: 'No one has ever burned a flag at a trade school'
Like The College Fix on Facebook / Follow us on Twitter
IMAGE: marcovarro/Shutterstock