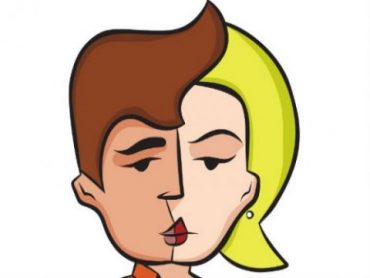 An Idaho high school had altered the traditional boys vs. girls competitions for its spirit week in order to be accommodating to its "gender variant" students, but the change still ended up causing a big controversy.
The Twin Falls High School student council altered the activities' monikers to "blue vs. pink," but apparently there's little substantive difference between the traditional gender colors … and the genders themselves.
According to MagicValley.com, a group of students — "including some who are transgender" — complained of harassment and say they felt targeted after wearing purple shirts to school instead of blue or pink.
Some of that came in the form of messages painted on the "school rock": At one point it was painted half blue, half pink with "F*** that transgender bulls***" written on it.
In addition, after some students had put up posters in the school hallways encouraging peers to wear purple as a sign of inclusiveness, many were "scribbled on or taken down" in a matter of hours.
Twin Falls resident Jen Blair, an advocate for lesbian, gay, bisexual and transgender youth, said her daughter, who is straight, decided to participate.

"It was pretty hostile in the hallways all day, apparently," Blair said.

Her daughter was yelled at, including comments to the effect of, "boys have a penis and girls have a vagina."

"For students who are gender variant, it was a particularly intense day," Blair said.

Some teachers led class discussions about gender during the day but other incidents felt traumatizing to some students, she said. …

[Student] Ryan [Flores] said he heard "some very negative and vulgar comments" at school Friday. And during the all-school assembly at the end of a long day, students sat in two groups: those wearing pink and those wearing blue.

"What I saw was just repulsive, and it made me feel ill," Ryan said. He started having a panic attack.

He said he didn't want to go to the boys' side because he thought he'd be kicked out, but he's not a girl. Other students felt the same way, he said. There was no place for them.
The district adopted a "gender identity and sexual orientation policy" in 2015 which includes a section about dress codes: Dress must be gender neutral "including (dress codes for) the traditional school day, school activities including dances/prom, and graduation." Disciplinary action can be taken if the code is violated, though it doesn't specify.
This code would appear to cover the "blue and pink" activities as they were sanctioned school-wide.
District spokeswoman Eva Craner said the school's student council had good intentions with its blue and pink day, but "[p]erhaps it could have been more inclusive."
District Superintendent Wiley Dobbs said "We want to make sure that students know if they're uncomfortable about a situation or they feel like they've been discriminated against in some fashion, they need to report it."
Hmm … I guess long gone are the days when my Spanish teacher played review games with the class divided into the "Os" and the "As."
MORE: Most children who identify as transgender are faking it, says psychiatrist
MORE: Court ruling means Virginia students can be suspended for offending transgender peers
Like The College Fix on Facebook / Follow us on Twitter
IMAGE: Shutterstock