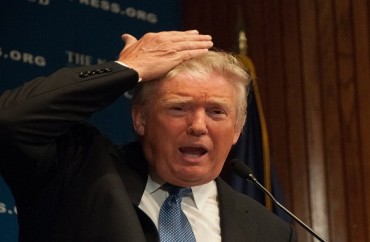 A Missouri middle school teacher is in a bit of a situation after he shamelessly posted a photo of himself giving the White House the finger.
Warrensburg Middle School science teacher Lynn Miller was on a field trip with some school students during his flashing of "the bird." According to one student, he had informed students en route to Washington that he planned to do just that.
"Though none of the students saw him making the gesture, he encouraged them to check out his Facebook page, where he later posted the snap," the New York Post reports.
The image is no longer available on Miller's Facebook page; however, the father of a student on the trip put it up on his page:
"It was very rude and disrespectful," said student Corinne Hammond. Her father wrote on his Facebook post "I couldn't believe that a teacher that was trusted to take middle school students to Washington D.C. on a school trip would actually stand in front of the White House and flip it off and tell the 6th, 7th and 8th graders that this is freedom of speech.
"He was right, it is freedom of speech. So I guess what he is teaching, it's all right to walk in his class everyday and flip him off because it's freedom of speech."
Hammond, who told FOX 4 that he had served 23 years as a US Marine, added that he would be filing a complaint with the school board.

"I don't care how you feel about politics or anything else, but when you are trusted to lead students and this is what is being taught I think it's time you are held accountable for your actions while representing Warrensburg Middle School and the Warrensburg school district," he wrote.

Warrensburg School District leaders told FOX 4 that this wasn't a school-sponsored trip — but Hammond disputes this because families learned about the trip, coordinated by a tour group called World Stride, through the school system and a series of presentations advertising it.

Warrensburg Schools Superintendent Scott Patrick told the station that at this point, Miller has not been disciplined for his gesture, but did not comment on whether that may change.
Stay classy, Mr. Miller.
MORE: Some New Jersey high schools REALLY have issues with President Trump
MORE: School board member resigns after making Trump 'assassination' social media post
Like The College Fix on Facebook / Follow us on Twitter
IMAGE: Shutterstock