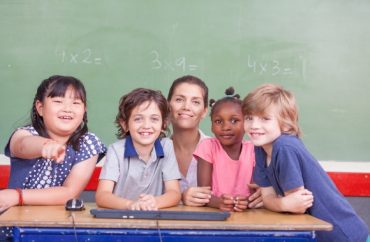 PragerU has launched a major effort to defend and advance school choice with a campaign that combines a series of educational videos with a pledge to educate and galvanize parents, teachers and students on the issue.
The campaign, called "School Choice Now," launched in January as a four-part yearlong campaign.
"If you want America's students to have better educations and brighter futures, you have to support choice and competition in education. It really is that simple," Dennis Prager, radio talk show host and founder of Prager University, told The College Fix via email.
The campaign will feature four different videos on topics including fixing a broken education system and how school choice helps low-income families and special needs students.
To date, more than 18,000 people — parents, students and teachers — have pledged their support by signing their name to the statement: "I feel strongly that families should be free to choose the best education for their children."
The campaign's debut video featured Rebecca Friedrichs, an Orange County public school teacher who was a lead plaintiff in the 2016 Supreme Court case Friedrichs v. California Teachers Association.
"Friedrichs became a national figure of the school choice movement, when, after 28 years of serving as an elementary school teacher, she and 10 other California teachers sued the CTA, one of the nation's largest teachers unions," according to PragerU officials.
The video, titled "Why Good Teachers Want School Choice," claims that teachers unions opposition to school choice hurts the very students they claim to help. In the video, Friedrichs states that "for millions of families in my home state of California and in many others, school choice is not a choice. And there's one reason why: teachers' unions."
Friedrichs argues that because unions force every single teacher to pay dues, they are given over $300 million annually, which they use to lobby the state for more school funding. Even though California spends more than $55 billion annually on education, the state ranks 45th in the nation for educational achievement. Teachers' unions "first in, last out" policy allows schools to fire excellent new teachers, while keeping incompetent veteran teachers in the classroom, according to the video.
"In almost every state and city where there is competition today, educational outcomes improve – often dramatically. This competition is called school choice, and many states and cities now embrace it. In the most comprehensive study done to date — students in school choice programs saw their reading and math scores improve by 27 percent and 15 percent, respectively," Friedrichs says in the video.
"The teachers' unions don't like school choice because it means less money and less power for them. That's why they'll say anything, do anything, and spend any amount to stop it – whether in the halls of the legislature, on the campaign trail backing pro-union candidates, or on TV with sweet-sounding commercials," Friedrichs added.
With school choice, teachers "are free from the unions' stifling work rules. In short, they're free to teach. And the administrators at these schools are also free to reward good teachers and fire bad ones," she concluded.
In an interview with The College Fix, Friedrichs said "I'm really grateful to be working with Prager University and Unite for California Students to bring the light of truth to the school choice debate."
"There is a lot of misinformation about school choice – especially among teachers who have been told choice will damage their careers and their students," she said. "Those fears are not based in fact, so I'm thrilled we can help teachers, parents and all citizens to learn the wonderful truths about school choice."
"Every single American child should be free to learn in an educational environment of excellence, and every teacher should be free to teach without stifling union work rules, and every parent should be free to choose."
And Prager told The Fix: "People who believe that the current public education system is working for America's students are either not sufficiently informed or have an agenda other than helping students. Our goal with this video, and with our entire School Choice Now campaign, is to make the case for school choice to millions of Americans. And, so far, look at the numbers: It's working."
Like The College Fix on Facebook / Follow us on Twitter