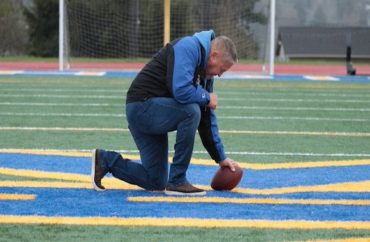 Remember the Washington State high school assistant football coach who was fired for praying at midfield at the end of his team's games?
As a result of the U.S. Supreme Court siding with coach Joe Kennedy in August (via a 6-3 vote), the Bremerton School District has agreed to pay him $1.75 million … and give him his job back.
In a March 17 announcement, the district's board announced it had agreed to the settlement, all the while claiming in a not-so roundabout way that it had acted legally appropriately all along.
"[W]hen we learned that a district employee was leading students in prayer, we followed the law and acted to protect the religious freedom of all students and their families," the board said.
"The school district offered repeatedly to accommodate Mr. Kennedy's desire to pray, as long as he was not delivering prayers to students or coercing students to join him. Mr. Kennedy's lawyers refused to accept any resolution that didn't include Mr. Kennedy praying in a way that involved students. For nearly seven years the lower courts ruled repeatedly that Mr. Kennedy's actions were a violation of the Establishment Clause."
The board also noted the monetary portion of the settlement is for Kennedy's attorney fees that "will be paid in interest-free installments over three fiscal years."
The board's announcement notwithstanding, the SCOTUS had said in its ruling that students "were not required to participate in Kennedy's prayer sessions, and the prayers were not publicly broadcast."
As noted by The College Fix back in August of 2016, Coach Kennedy "saw no reason" to comply with Bremerton High School's demands that he stop praying. He never had a complaint about his post-game 30-second prayer at the 50-yard line in seven years, and students were joining him of their own free will.
Furthermore, another coach "ha[d] engaged in a Buddhist chant" at the end of games and was never warned or reprimanded.
Before the Ninth Circuit Court of Appeals, district lawyers had said the reason Bremerton took no action during those seven years was because it believed Kennedy was giving an "inspiration speech."
MORE: Canadian elected officials call criticism of Muslim prayers in schools 'hateful,' 'racist'
MORE: U. Colorado's 'Coach Prime' targeted by atheist group, undergoes 'equity/compliance' training
IMAGE: Herqles / Twitter screencap
Like The College Fix on Facebook / Follow us on Twitter