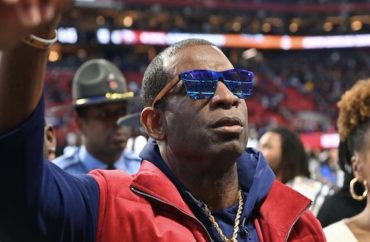 NFL legend Deion "Prime Time" Sanders, now head football coach at the University of Colorado Boulder, recently faced the wrath of the Freedom From Religion Foundation for allegedly unconstitutional actions such as … praying.
According to HBCU Gateway, the FFRF said "Coach Prime" is alleged to have "led other staff members in a Christian prayer to start an official meeting" and "more egregiously […] directed a staff member to lead players and coaches in Christian prayer before a team meeting."
In a letter to U. Colorado Boulder Chancellor Phil DeStefano, the FFRF said Sanders' prayer included "Lord," "Father" and "Jesus."
"It appears […] Coach Sanders includes prayer in all his team meetings and events, and likely prays regularly with the team," the letter read. "We understand that Coach Sanders 'praised and glorified God during an introductory press conference Dec. 4 commemorating his new head coaching gig at [CU].'"
The FFRF also said Sanders had a history of "pushing religion" at his previous coaching job, Jackson State University. There are no reports of anyone at JSU who complained about Coach Prime, however.
MORE: Teacher tells class 'evolution only goes so far,' FFRF pounces
CU responded to the FFRF by noting that although the organization never ID'd a CU football player who "voiced a specific concern" about Sanders, the coach nevertheless attended "training" led by the school's Office of Institutional Equity and Compliance.
There, Sanders got "guidance on the the boundaries in which players and coaches may and may not engage in religious expression."
"Coach Sanders was very receptive to this training and came away from it with a better understanding of the University of Colorado's policies and the requirements of the Establishment Clause," the CU letter continued. "The Office of Institutional Equity has also trained the other coaches on the football staff. These trainings will be reinforced through additional events the Athletics Department's compliance program offers on a regular basis."
The HBCU Gateway report notes Sanders — who was inducted into the Pro Football Hall of Fame in 2011 in his first year of eligibility — "has been a professed and devout Christian for much his time in the public eye." He has stated that "God called him" to his Jackson State and CU coaching positions.
MORE: FFRF goes after Auburn U's football chaplain program
IMAGE: 247Sports / Twitter screencap
Like The College Fix on Facebook / Follow us on Twitter