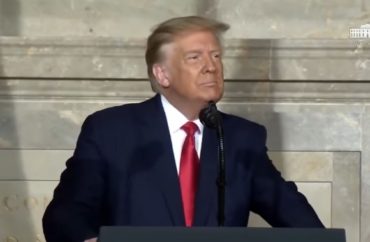 President Donald Trump on Thursday announced plans to sign an executive order to establish a "1776 Commission" to promote "patriotic education" and counter the leftist-progressive narrative that has become entrenched in public schools and higher education.
"I will soon sign an executive order establishing a national commission to promote patriotic education. It will be called the '1776 Commission,'" Trump said as he celebrated Constitution Day at the National Archives.
The commission will encourage educators to teach young people "about the miracle of American history and make plans to honor the 250th anniversary of our founding."
Trump said the impetus of the commission is the "radical movement … attempting to demolish this treasured and precious inheritance."
"We can't let that happen," Trump said. "Left-wing mobs have torn down statues of our founders, desecrated our memorials, and carried out a campaign of violence and anarchy. Far-left demonstrators have chanted the words 'America was never great.'"
"… From Washington to Lincoln, from Jefferson to King, America has been home to some of the most incredible people who have ever lived. With the help of everyone here today, the legacy of 1776 will never be erased. Our heroes will never be forgotten. Our youth will be taught to love America with all of their heart and all of their soul."
Today, we are seeing the results of decades of left-wing indoctrination in our schools.

No American student should be made to feel ashamed of their history or identity. pic.twitter.com/pJrwI4ZyHE

— The White House (@WhiteHouse) September 17, 2020
Trump spent time highlighting indoctrination and bias in higher education during his speech.
"Students in our universities are inundated with critical race theory," he said. "This is a Marxist doctrine holding that America is a wicked and racist nation, that even young children are complicit in oppression, and that our entire society must be radically transformed."
He called out the flawed and criticized "1619 Project" from The New York Times, which claimed that President Abraham Lincoln was racist and that the American Revolution fought to keep slavery. Many school districts have since added the 1619 Project as curriculum.
"Critical race theory, the 1619 Project, and the crusade against American history is toxic propaganda, ideological poison that, if not removed, will dissolve the civic bonds that tie us together. It will destroy our country," Trump said.
His speech was complemented by a presidential proclamation to mark Constitution Day and Citizenship Day.
"While freedom-loving Americans rightfully venerate and defend our Constitution, we must also remain cognizant that there are those in our society who wish to tear down our institutions and threaten our sacred constitutional freedoms," the proclamation states.
"…On this Constitution and Citizenship Day, and during this Constitution Week, we recommit to upholding our constitutional system, to honoring its Framers and those who have sacrificed to defend it — who knew the true price of liberty — and to embracing the duty we as citizens have to preserve the society it has built."
MORE: 1619 teaches Lincoln was racist, American Revolution fought to keep slavery
Like The College Fix on Facebook / Follow us on Twitter