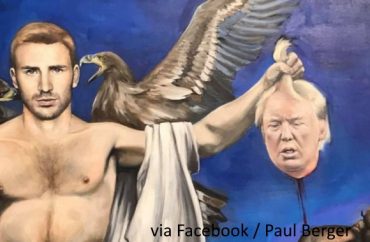 A large painting showcased in a University of Alaska Anchorage art gallery features an image of President Donald Trump beheaded and bleeding, his severed head dripping blood onto a vampire-inspired Hillary Clinton in a white-pant suit, his head held aloft by a naked Captain America look-alike flanked by two Eagles in flight. At Captain America's feet is an apparently dead buffalo with the words "Make America White Again."
The piece was created by Assistant Professor of Painting Thomas Chung and is part of a faculty art exhibition hosted in the university's fine arts building, KTUU-Anchorage reports.
The image has prompted controversy, with one former adjunct professor at University of Alaska Anchorage, Paul Berger, posting photos of the display on Facebook and asking: "I'm not sure how I want to respond to this. First thing that comes to mind is freedom of expression, fair enough (although, I might wager the severed head of our former president might illicit a different response from the administration of UAA and their student body). The second is public funding of our university system. Thoughts?"
Comments under his post ranged from disgust to outrage.
But Professor Chung told the KTUU-Anchorage that his work is an ode to 80's rock posters, "where there's a woman in tattered clothes clinging to a strong male hero's leg." He added: "After Trump was elected, I spent days just weeping. And it was really surprising, because I'm not a political person. I am a social artist. I deal mostly in ideals of culture and global culture, but this election bled into that."
"I was really torn about putting this piece up a faculty show, because I would never talk about my own political beliefs to my students," Chung added. "I would never push that upon them and make them feel uncomfortable, and so I wondered to myself if putting up this painting was in a way doing that. But I realized that I feel very strongly about this, and I think even students that might be pro-Trump supporters could benefit from having a conversation with me about why I feel this way – why I painted this."
MORE: Professor laments life under Trump: 'I live in a fragmented, cruel world'
Like The College Fix on Facebook / Follow us on Twitter