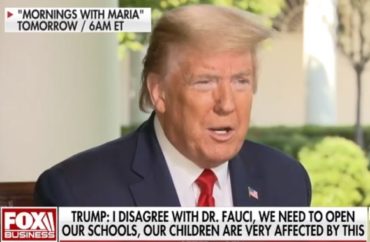 President Donald Trump on Wednesday made several calls for schools to be reopened, first in an interview on Fox Business and then to reporters later in the day.
While the president did not distinguish between K-12, preschools and colleges, he did tell reporters professors and teachers over a certain age should "take it easy" for a few more weeks.
But Trump argued in his comments that reopening the schools is a key factor in getting the country going again.
His comments stand in contrast to Dr. Anthony Fauci's congressional testimony on Tuesday that "we don't know everything about this virus and we really better be pretty careful, particularly when it comes to children" and that "we don't see a vaccine playing in the ability of individuals to get back to school this term."
Trump told Fox Business' Maria Bartiromo on Wednesday that Fauci "is a good person, a very good person," but he disagrees: "We have to get the schools open, we have to get our country open, we have to open our country."
"Now we want to do it safely, but we also want to do it as quickly as possible, we can't keep going on like this … You're having bedlam already in the streets, you can't do this. We have to get it open. I totally disagree with him on schools."
Later in a press briefing Wednesday at the White House, Trump repeated his sentiments.
"I think they should open the schools, absolutely. I think they should," Trump said, referring to governors. "Our country's got to get back and it's got to get back as soon as possible. And I don't consider our country coming back if the schools are closed."
Regarding Fauci's remarks, the president said he was "surprised by his answer actually because it's just, to me, it's not an acceptable answer, especially when it comes to schools."
"… These are young people, these are young students, they're in great shape," Trump said.
While he acknowledged there is a rare chance for an "incident," he added "you could be driving to school and something could happen, too."
The Associated Press reports that "Fauci later clarified that he was not implying students should be barred from returning to class until a COVID-19 vaccine is developed. But his comments were nonetheless seized on by conservative commentators, as well as Sen. Rand Paul, R-Ky., who called the notion 'kind of ridiculous.'"
MORE: More universities announce plans for in-person classes this fall 
IMAGE: Fox screenshot
Like The College Fix on Facebook / Follow us on Twitter