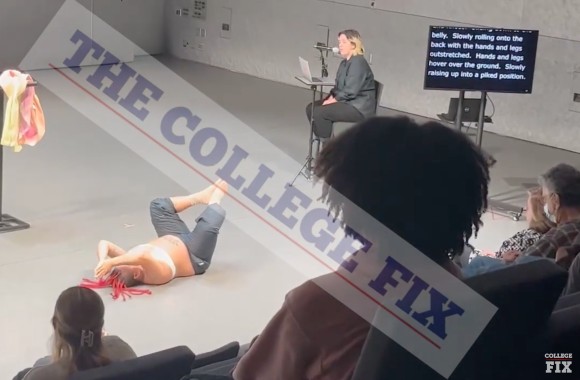 'It was a parade of everything perverted about the extreme progressive worldview,' an attendee said
PRINCETON, N.J. — An avant-garde art show at Princeton University on Tuesday left some students in the audience "shocked," and even led to a Catholic prayer of protection afterward by a group of students.
The "Intro to Radical Access" Princeton Dance program and Program for Community-Engaged Scholarship hosted the "anti-technique" performance, which featured three artists with self-diagnosed disabilities, Christopher Núñez, Kayla Hamilton, and a performer who goes by "x."
"x" is also a self-described "agender and disabled Black person of Chinese-Jamaican heritage" who uses "gender neutral and neo-pronouns such as they/themme, ze/hir, and fae/faer," according to x's website.
"x is an Afro-Asian, light-brown skinned, fat, hyper-mobile, nonbinary, agender person with top surgery scars," the audio-visual interpreter who opened the performance stated. Throughout the performance, an interpreter referred to x with "they/them" pronouns.
"This is the first time that we get to experience in a more pragmatic, practical way what access, accessibility, and access artistry means," Núñez said at the event. Núñez is a Princeton Arts fellow who is a "visually impaired choreographer, educator, and accessibility consultant," according to his website.
Núñez currently teaches the Princeton Dance course "Introduction to Radical Access: Disability Justice in the Arts," which is "designed for all students interested in Radical Accessibility" and takes "embodied approach to Disability Justice."
Each class includes "self-care practices to ground ourselves into our bodies." The course description advertises that "Disabled and Non-Disabled, d/Deaf, Chronically Ill and Immunocompromised students, whether new to or experienced in Disability Justice, Accessibility and/or Art Making practices are highly encouraged to enroll."
x danced to music and techno-voice readings of the performer's personal medical records documenting mental illness. x was hospitalized and diagnosed with "bipolar 1 with psychosis" after a "manic episode" that was "drug-induced." x recalled being on "a million meds that never worked" and "ignored by every psychiatrist and psychotherapist." x explained "my neurodivergence is even more complicated than what the DSM can provide" and described being "self-diagnosed autistic." x expressed a "crave to be held and touched at all times" but suggested "maybe that's just the childhood abandonment talking."
The College Fix reached out to The Organization for Autism Research to ask whether it had any comment on the practice of self-diagnosing autism. It has not received a response.
x's previous performance works included "the sheer phaggotry of plastic accessibility" and "content warning: THERE WILL BE BLOOD," during which x wore lingerie, angel wings, and fake blood while the audience shouted directions such as "blood dance" and "drink more water," according to x's Instagram.
The Fix asked Núñez whether Princeton arts events should incorporate themes of mental illness more often. He has not responded.
MORE: Harvard panel on autism postponed after students said it was 'violently ableist'
Kayla Hamilton followed x with the performance "How to Bend Down, How to Pick it Up," which explored "the use and medicalization of cotton as a historical thread between blackness and disability," she said during the performance.
The questions the performer considered in the performance included "how does cultural specificity bring about access," "how does the process of normalization impact and operate through disability," and "in what ways or how does white supremacy replicate itself in disability space?"
Hamilton described herself as a "Black Disabled choreographer, producer, and educator" who seeks to "elevate marginalized voices that exists [sic] within multiple intersections — specifically Black, female, and dis/ability — and illuminate their untold stories in mainstream society to create empathy and (hopefully) ignite equality," according to Hamilton's professional website. Hamilton is a visually-impaired choreographer who explores "seeing."
Hamilton opened by singing the nursery rhyme "Miss Mary Mack," a song theorized to be about Mary Touvestre, "a freed slave who risked her life to protect the Union army from a disastrous naval attack," according to Digital Grinnell, an online archive hosted by Grinnell College.
Hamilton wandered through the audience and said "I see you" to various attendees. Hamilton held out a hat and audience members tried to throw foam globes into the hat. Hamilton danced around the stage.
After concluding the dance, Hamilton explained she encountered a story about a "crippled enslaved person" in her "research." The slave master "drove [the slave] into the water as a form of punishment" and "began throwing rocks at the cripple." Then, the "cripple took off his hat" and tried catching the rocks, treating it as a "game." The angered master went into the water and "the cripple dunked the master's head in the water and he almost drowned," but a neighbor intervened to save the master, Hamilton said.
The anecdote was published in 1842 by the The Anti-Slavery Standard, a weekly newspaper of the American Anti-Slavery Society.
There was an audio-visual interpreter and two sign-language translators who alternated at the event. 
Attendees expressed confusion and concern
Several students in the audience questioned the value of the performance.
"I was shocked. I have no clue how any adult person could take anything that went on there seriously. It was a parade of everything perverted about the extreme progressive worldview," an undergraduate attendee, who asked to comment anonymously, told The College Fix.
"I refuse to believe that reasonable people can go to an event like this and take it seriously," said attendee Sebastian Quiroga, who recently completed his bachelor degree in engineering at Princeton and has remained for a master's degree.
"Watching the first performer, x, deeply saddened me. They offered an account of their struggles with mental health, a rebuke of care provided by relevant mental health professionals, and even self-diagnoses of disorders (including autism). Modern, interpretive dance is not classical ballet. Nor should it be," Quiroga wrote in an email to The Fix.
"Even so, this performance was something else altogether. x describes their approach to movement as 'anti-technique.' At least they are honest," Quiroga said.
"In today's world, flailing on the ground and exclaiming that your Bipolar 1 Psychosis diagnosis is wrong since you were only manic once while high on shrooms makes you an artistic genius worthy of invitation to our nation's top university," he said.
Some students were evidently concerned about the performance and stayed behind to pray the Catholic prayer to Saint Michael the Archangel. The prayer asks the archangel for "protection against the wickedness and snares of the devil" and for St. Michael to "thrust into hell Satan and all evil spirits who wander through the world for the ruin of souls," according to EWTN, a Catholic news outlet.
MORE: Ecological restoration is like 'gender confirmation surgeries,' trans river scientist tells Princeton students
IMAGE: Abigail Anthony for The College Fix
Like The College Fix on Facebook / Follow us on Twitter