The dean of Princeton University's School of Public and International Affairs sent an email to students and others that condemned the Kyle Rittenhouse verdict, saying it "sets a dangerous precedent."
The email, with the subject line "Our Moral Duty (Sent on behalf of Dean Amaney Jamal)," was sent Saturday, the day after Rittenhouse was found not guilty on all charges after shooting three protesters during rioting in Kenosha, Wisconsin, last year.
The decision was made by a jury, but Jamal, in her email, called it a "ruling."
"I fail to comprehend the idea of a minor vigilante carrying a semi-automatic rifle across state lines,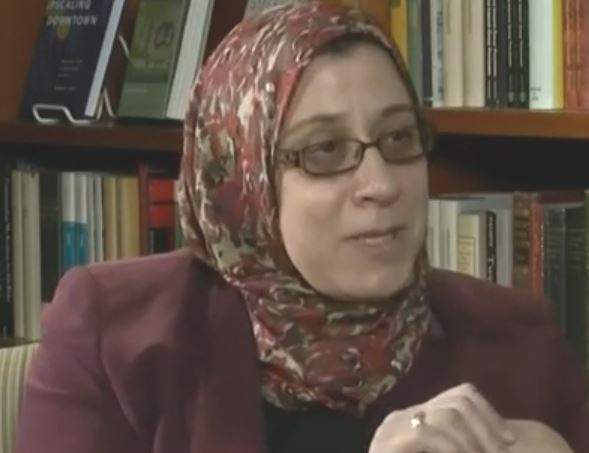 killing two people, and being declared innocent by the U.S. justice system. Yesterday's ruling sets a dangerous precedent," the dean wrote in her email, sent to the entire Princeton School of Public and International Affairs listserv.
The message was first reported by Newsmax. Writing for Newsmax, Paul du Quenoy argues the dean (pictured) appears to be ignorant of Constitutional rights: "Is she aware that U.S. citizens do, in fact, have the right to keep and bear arms, and to defend themselves and others with deadly force in a plethora of circumstances, particularly when they are violently attacked?"
The dean's email, a copy of which was provided to The College Fix by du Quenoy, stated in full:
Dear SPIA community,

Last August, Kyle Rittenhouse shot and killed two protestors and wounded a third in Kenosha, Wisconsin. During his trial, he emotionally broke down on the stand, saying he was acting in self-defense. Today, he was acquitted of all six charges against him, including three of which were homicide related.

My heart feels heavy as I write this. As dean of a School of Public and International Affairs, I believe people have a right to assembly. I also believe that, during events like the protests following the shooting of Jacob Blake, it is the job of formal law enforcement bodies — not individual citizens —to ensure public safety. I fail to comprehend the idea of a minor vigilante carrying a semi-automatic rifle across state lines, killing two people, and being declared innocent by the U.S. justice system. Yesterday's ruling sets a dangerous precedent.

Rittenhouse is not a racial minority, and some would say this is another example of biases and leniencies embedded within the justice system. That may be true. What we do know without a doubt is there are racial inequities in nearly every strand of the American fabric. Today's verdict employs me to ask you — our current and future public servants — to investigate our policies and practices within the justice system and beyond. How can we use evidence-based research in pursuit of the public good? What role do we play, and what obligation do we have to serve?

It feels like an immeasurable, daunting task. I'm sure there are days in which you feel like giving up. In those moments, remember: Democracy is not a guarantee. We must always act with our feet, evoke change with action. We must always remain part of the policy solution. People. Policy. Progress. This is the basic order of our work. In between is passion, grit, tenacity. It is our moral duty to support and advance public policy that makes the world better.

Resources are available for our students. Sue Kim, our TigerWell outreach counselor, is available for virtual drop-in visits. Dr. David Campbell from Counseling and Psychological Services will host a virtual space for SPIA students to process the Rittenhouse Trial on Monday, November 22 at 5:00pm ET. …

With regards,
Amaney
Jamal was promoted to her position as dean in June of this year.
"Jamal is a longtime Princeton faculty member, whose research and teaching focuses on the Middle East and North Africa, political development and democratization, inequality and economic segregation, Muslim immigration in the United States and Europe, and issues related to gender, race, religion and class," a news release announcing her promotion stated.
The scholar is not the only one within academia to be voicing alarm over the verdict.
As The College Fix reported today, controversial Rutgers University professor Brittney Cooper had said the Rittenhouse verdict was a sign of "which version of whiteness" America wants. When discussing the fact that the men Rittenhouse shot were white, she said there "have always been white victims of white supremacy."
At Fitchburg State University in Massachusetts, administrators scheduled "virtual and in-person physical" spaces for students who needed to process the Rittenhouse verdict. The spaces are segregated by the students' color, with white and students of color being asked to attend separate "processing spaces."
At New York University, Dean Neil Guterman issued a statement saying the school's social work scholars, teachers, and learners "stand in solidarity with those protesting against racial injustice, and share the pain at the outcome of the trial of Kyle Rittenhouse."
Read the Newsmax column here, and the roundup of academia's response to the Rittenhouse verdict here.
ALERT: Check out our new Campus Cancel Culture Database
IMAGES: YouTube screenshots
Like The College Fix on Facebook / Follow us on Twitter