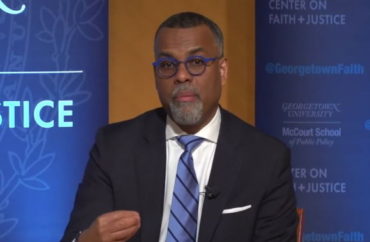 'At every moment when a new America seems to be about to be born, the umbilical cord of white supremacy is wrapped around the baby's neck, choking the life out of it'
Regardless of how far America has come, it's still trying to keep the black community down.
That is the basic argument that was presented by the chair of the Department of African American Studies at Princeton University during a recent guest talk at Georgetown University.
Arguing that white supremacy has distorted democracy in America, Professor Eddie Glaude said the country must be refounded rather than just implement incremental reforming.
"How many times has France been refounded," Glaude asked rhetorically.
While Glaude acknowledged the Declaration of Independence touted the notion of equality, he said during his March 3 discussion that America continues to fail its founding ideals.
"At every turn, when America seems as if it's on the precipice of being otherwise, it doubles down on its ugliness," Glaude said at the event, titled "Is America Possible?: A Conversation on Race and Democracy" and hosted by Georgetown's Center on Faith and Justice.
"At every moment when a new America seems to be about to be born, the umbilical cord of white supremacy is wrapped around the baby's neck, choking the life out of it. And in some ways we have to be better midwives," he said.
Glaude spent much of his time discussing his overall argument that despite the Civil War's achievement and America's Constitutional amendments to establish lasting equality, what he calls the "ideology of Anglo-Saxonism" runs parallel to such gains and impedes true progress.
He cited overall themes, such as American imperialism, as well as previous roadblocks like Jim Crow laws and convict leasing, and then also more modern conflicts, such the election of Republican politicians, parents objecting to critical race theory, and voter-integrity laws.
"America is more than an idea, it's a fight with bodies left in the wake," he said.
Much of Glaude's frustrations and blame for the lack of equality for African Americans centered on GOP lawmakers, both past and present.
"So Lincoln can save the union and can shatter slavery, but he still believes that white men are superior to black men, that white women are superior to black women," the professor said.
"They elected Nixon twice. The response to half of Dr. King's head being blown off was Nixon — twice," he said. "… Reagan is elected 15 years after the passage of the voting rights act to undo it all."
"…[Mitch] McConnell doesn't believe … in a multiracial democracy at all. But I would also argue that Joe Manchin doesn't believe in it."
The professor argued that the "stop the steal is really a reflection of the terror and panic in response to the demographic shifts in the country that are impacting how our politics take shape."
"There is a sense in which those among us cling … to the idea that this nation must remain a white nation in the vein of old Europe."
He also took aim at law enforcement and said he was disheartened over President Joe Biden's calls in the recent State of the Union address to fund the police.
"The call for law and order puts in place the building blocks of the carceral state," the professor said.
He also described voter-integrity laws as people working to "rig the terms so that we can keep this nation white."
Glaude said he is tired of reforms that "tinker around the edges while people are dying. I've got to raise my babies in it" — and called for some sort of refounding of the country. Although when asked by members of the audience, he was short on ideas regarding what that would look like.
While admitting he is a perfect example of the American dream come true, he suggested that he and his children are always going to be looked upon as inferior due to the color of their skin.
Glaude is no stranger to making controversial statements. In November 2020, he blamed whiteness, sexism and patriarchy for the closeness of presidential election results. In 2019, he called then-President Donald Trump's enforcement of immigration laws "terrorism."
His books include "Begin Again: James Baldwin's America and its Urgent Lessons for Our Own" and "Democracy in Black: How Race Still Enslaves the American Soul."
The views in this article do not represent those of the Department of Defense or the United States Army.
MORE: Black Villanova student group demands answers on why campus hosted GOP debate
IMAGE: YouTube screenshot
Like The College Fix on Facebook / Follow us on Twitter