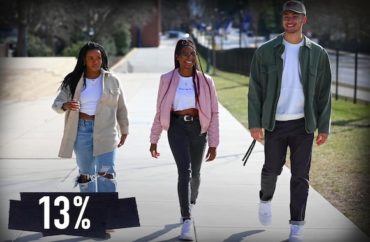 Debate was not sponsored by the university, it merely served as host
An organization at Villanova University dedicated to "creating a safe space for Black student-athletes" is upset the school recently hosted a Republican primary debate.
The group known as "13 Percent" sponsored a Student Government Association resolution calling on the campus president to address why the primary was held on campus … but 13 Percent was not allowed to post a video on official Villanova social media about George Floyd's murder in 2020.
According to The Villanovan, 13 Percent's video also had "affirmed that Black Lives Matter and shared the experience of being a Black student athlete" at the Philadelphia-area Catholic university.
While Villanova turned down 13 Percent's request  — university policy states school websites "should not be used as a platform for discussions, commentary, political viewpoints or private messages" — it did put out a message "affirming" that, yes, black lives do indeed matter:
Black lives matter. These words draw our attention to the prejudices, injustices and racism endured by Black men and women in this country since its founding. More important, these words recollect a history of physical brutality, senseless death and systemic oppression endured by the Black community. I understand the intention behind that phrase now, and I hope others in our community do as well. Black lives do matter.
A few months later, the Villanova Athletic Department posted the following to Facebook, the accompanying text of which solicits donations for 13 Percent:
MORE: Villanova professor to give lecture justifying Antifa violence
In addition, the school's athletic department highlighted 13 Percent on its Facebook page about a year ago:
Alas, according to 13 Percent Co-President Sanaa Barnes, just because President Rev. Peter Donohue offered a statement "doesn't mean [it] didn't take away [black athletes'] voices in another way."
13 Percent's Joia McKinney, a water polo athlete, added the university's 2020 message "definitely didn't touch on the severity of the situation" and "for the school to just ignore the plight of what a lot of its athletes are going through on a national stage is ridiculous." (McKinney and Barnes, respectively, are featured in the second Facebook post above.)
13 Percent claims it didn't want the GOP debate canceled, it just wants "acknowledgment" from Villanova.
McKinney said "The school needs to stop looking to us to resolve the problem. You messed up […] Stop looking to Black students and people of color to fix your problems. I'm not being paid to fix what you mess up."
As you might expect, the GOP primary debate was not sponsored by the university; the school merely hosted the event. In a statement, Villanova said
The primary debate on Feb. 21 was open to those who decided to attend and learn more about our election process and candidates seeking office; it was not a University event. Villanova has a long history of allowing events that educate our students on the political process and the candidates seeking those offices. The University does not endorse political viewpoints, parties or candidates.
It added that none of those participating in the debate were permitted to post messages on official Villanova websites or social media — just like 13 Percent.
"To be clear, a facility on Villanova's campus being the site for a primary debate event to educate those who choose to attend about the candidates and our political process is starkly different than the University sending out a specific message on behalf of a particular group on its official communications channels."
MORE: Villanova Black Student Union: Alleged racial slur means 'greater institutional issues'
IMAGE: Villanova Athletic Dept./Facebook screencap
Like The College Fix on Facebook / Follow us on Twitter