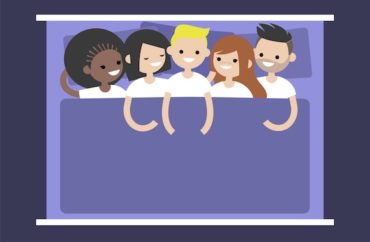 Group meets in secret; members are all anonymous
Princeton University has a new secretive polyamory group for students who wish to explore the topic of romantic and sexual relationships with multiple partners.
The student organization, called simply the Polyamory Group, has around 10 members. It meets in secret about once a month, The Daily Princetonian reported; the location itself is a secret, and is only available to those who call the campus's LGBT Center and express interest in it. The group advocates polyamory as "ethical non-monogamy."
The LGBT Center did not respond to The College Fix's requests for comment on the club and if it functions as a matchmaking service.
Will Nolan, co-president of the Anscombe Society, a Princeton student group that promotes traditional values including a stable family, chastity and monogamous marriage between men and women, said in a statement over email that the society is "saddened" by the polyamorous club.
"We believe that the complementarity inherent to a flourishing long-term commitment in marriage admits of only two people, one man and one woman. The myth that an arbitrary number of people can enter into a non-platonic relationship gravely undermines the stability and fulfillment attainable in marriage," Nolan told The College Fix.
"On campuses such as ours, where what is beyond the pale today becomes the norm tomorrow, those of our persuasion must learn to reach those who begin with a sexual ethic almost antithetical to our own."
"Anscombe will continue to try to persuade and dialogue with the individuals in such groups, but must stand against what they promote," Nolan added.
The National Polyamory Society defines polyamory as the "non-possessive, honest, responsible and ethical philosophy and practice of loving multiple people simultaneously."
"Polyamory emphasizes consciously choosing how many partners one wishes to be involved with rather than accepting social norms which dictate loving only one person at a time," the Society claims.
The Polyamory Group is not the only divergent sexuality organization on campus. The group "Princeton Plays" offers students a community for bondage and sadomasochistic sexuality fixations. It is listed on the university's website as "Princeton's kink club."
MORE: Prof at Catholic university defends polygamous and incestuous marriages
MORE: Chicago dungeon master to teach college students BDSM practices
IMAGE: Nadia Snopek / Shutterstock.com
Like The College Fix on Facebook / Follow us on Twitter