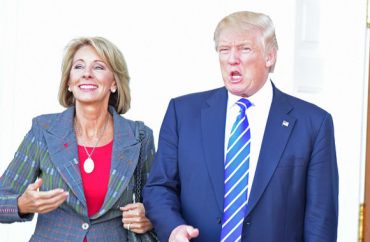 As the U.S. Department of Education reexamines campus Title IX enforcement, several advocacy groups that support due process have urged the Biden administration not to roll back protections for the accused established under the Trump administration.
Under the current review, due process for those accused of sexual assault is in danger of being eroded, the advocates warn.
A hearing conducted by the Education Department earlier this month aimed to gauge the effectiveness of current Title IX regulations, including that of sexual assault investigation practices across American college campuses.
Among those that submitted comments in support of due process protections was SAVE Services, which works to provide support to those falsely accused of sexual assault.
SAVE's president Edward Bartlett gave oral testimony June 7 to the Office of Civil Rights that debunked the idea that sexual harassment is a partisan issue, citing statements from liberal law professors and polling which "found that two-thirds to four-fifths of all Americans agreed with the due process" protections.
Bartlett provided The College Fix with multiple examples of courts finding problems with colleges' responses to sexual misconduct allegations under Obama-era guidelines. The courts find colleges frequently gave accused persons an insufficient hearing process, often refusing to allow cross-examination of the accuser.
When asked about this lack of cross-examination, particularly given the trauma such a cross-examination could cause, Bartlett told The Fix such trauma can cut both ways.
"[W]e also need to consider the irreparable trauma to a student who is falsely accused and found responsible by the school," he said.
Bartlett noted that, while trauma of victims must be considered, he similarly knew of students who attempted suicide due to the fallout of a false accusation: "Like many things in life, we need to weigh the interests of [both] the parties."
Another issue Bartlett stressed was overly permissive Title IX decisions leading to public problems for colleges and universities that implement them.
Noting a recent decision in which the 10th Circuit Court found reasonable suspicion of anti-male bias in an accused student's expulsion from the University of Denver, Bartlett said the potential for such decisions create public relations nightmares for colleges.
"[T]he most important consideration for school administrators is the looming threat of costly and [embarrassing] lawsuits … to date, there have been 25 circuit court decisions upholding campus due process," he said.
In addition to SAVE, the Independent Women's Forum and Independent Women's Law Center provided comments urging due process protections and defending the rules established under Trump.
"By requiring reasonably prompt time frames and written notice of allegations upon receiving a complaint, the 2020 Rule sought to codify federal court precedent and thereby prevent injustices … from happening again," the groups stated.
"Any changes to this Rule or any new Department policies must maintain these basic protections. Without clear notice of what is being alleged and sufficient time to respond, accused persons lack any meaningful opportunity to be heard."
Another group to defend the Trump-era rule is the Foundation for Individual Rights in Education, arguing that they "significantly" improved legal and due process rights on campuses.
"While it is tempting to think about procedural protections only through the lens of their benefit to accused students, they also play a vital role in protecting the interests of complainants," FIRE stated.
"After all, it is by thoroughly evaluating accusations that findings of responsibility gain legitimacy. It is also important to keep in mind that complainants suffer when procedural protections are inadequate. This point is powerfully illustrated by a case in Kentucky, where courts remanded a case for new proceedings several times and thereby forced the complainant to revisit her alleged rape over and over again, all because the University of Kentucky repeatedly violated the rights of the accused student. A complainant needs a credible process, too."
MORE: Biden's nominee is a 'wolf at the door' when it comes to due process rights for accused students, attorney warns
IMAGE: A. Katz / Shutterstock
Like The College Fix on Facebook / Follow us on Twitter