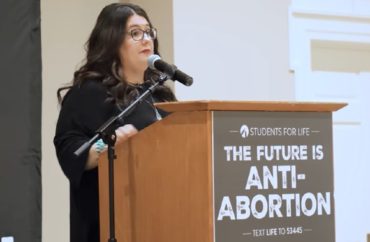 Students for Life notes that Kristan Hawkins already pays for her own security team
The University of New Mexico asked Students for Life of America to cough up $8,140 in security fees ahead of President Kristan Hawkins' April 24 speech called "Lies Pro-Choicers Believe."
Students for Life of America recently released the security invoice from the campus police department. "Yes, you read that correctly – UNM is asking a student organization for nearly $10,000 for a speaking event," Olivia Garza wrote. "And even though Hawkins' security team notified the university that they will be working during the event, UNM has refused to remove the excessive, required fees."
SFLA sent the university a legal demand letter, according to its blog post.
The pro-life organization reported that last year the UNM affiliate ran into trouble as well.
"This isn't the first time this school has attempted to stop a pro-life event on campus. In the 2022 fall semester, UNM's Police Department attempted to shut down another Students for Life UNM's speaking event just days before it was scheduled 'due to the subject matter' of the event," Garza wrote. "The police department was allegedly unable to provide enough resources for the event so the students were forced to take the event off-campus — does that sound like viewpoint discrimination to anyone else?"
The security tax has drawn the attention of the Foundation for Individual Rights and Expression, which also sent a letter to the university. The free speech group reminded UNM how the university had to reverse course in 2017 when it tried to levy a similar security fee on Milo Yiannopoulos.
The letter cited court precedent that barred the use of "excessive fees" based on the possibility of "expected protests or controversy."
"Accordingly, when UNM applies its security fees policy to a student group, it must adhere to narrowly drawn, viewpoint- and content-neutral, and otherwise reasonable standards that guard against viewpoint discrimination," FIRE wrote. "Allowing the subjectively determined controversial nature of Students for Life UNM's invited speakers to form the basis for exorbitant fees effectuates a heckler's veto, allowing the anticipated audience reaction to price speakers out of the marketplace of ideas."
"Because UNM is a government entity committed to free expression, it — not student groups — must foot the bill to ensure a broad range of viewpoints can be heard on campus," the letter stated. "With a nearly $600 million endowment, we're confident UNM can pay the $8,000 security bill for this speech without issue."
MORE: Activists violently shut down Kristan Hawkins VCU event
IMAGE: Students for Life of America/YouTube
Like The College Fix on Facebook / Follow us on Twitter