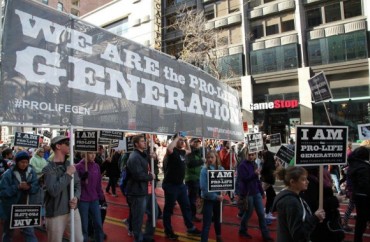 Pro-life activists planning to talk to students outside a high school in Columbus, Ohio, on Tuesday instead got a "madman" lunging at them while yelling his attack was "not violent."
Created Equal released a video showing the melee that started when the man, who has not been publicly identified, approached them as they were bringing out materials to show students. It sounds like he's saying "you gonna harass high school kids?"
When the activists try to explain their purpose, the man lunges at a person filming the encounter and yells "You will not film me at all! You do not have my permission!"
A few minutes later, according to the video, a police car pulls up. When Outreach Coordinator Ian Spencer tells the man they called the police, the man replies "I don't give a shit who you called. You're an ass."
The rest of the video shows the activists talking to a police officer, explaining that they talk to students at Gahanna Lincoln High School every semester.
Created Equal wrote in a blog post Thursday the group was pressing charges against the "madman." It said he has been cited for a "fourth degree misdemeanor of disorderly conduct."
The post refers to comments that are not included in the video:
When Ian requests [the man] stop violating our right to free speech, he responds: "I am not physically assaulting anyone." Nevertheless, he does not stop arguing that he has a right to threaten our team—all the while telling them "to leave this area … right now."
Created Equal said it coordinates with law enforcement before it conducts "outreaches" and explains its legal right to film:
Ohio law reads that individuals forfeit their right to privacy in a public area. Therefore, videotaping our high school outreaches are a lawful expression of our First Amendment rights.
Mark Harrington, national director of the group, said it "seems increasingly common" that pro-choice activists use violence against them, and such attacks are "inevitable."
Like The College Fix on Facebook / Follow us on Twitter
IMAGE: Sade Patterson