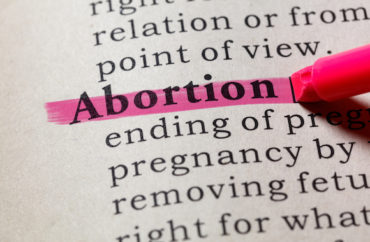 'Each individual human is initiated at fertilization'
In the wake of groundbreaking research revealing that an enormous majority of biology professors and academics believe human lives begin at conception, some biology professors have conceded that they feel the same way—though they're still in favor of legalized abortion.
Stephen Jacobs's intensive, extended research at the University of Chicago, published this year, revealed that three-quarters of biology professors endorsed the view that "fertilization marks the beginning of a human's life." When phrased just as accurately yet more obliquely—to the contention that "the development of a mammalian organism begins at the moment of fertilization"—about 90 percent of respondents agreed.
The College Fix reached out to numerous biology and human anatomy professors across the country, querying them about these results and asking for their own opinions on these critical scientific questions. Most did not respond, but several offered their own, surprising opinions on the matter.
'It is not a scientific question, it's a social question'
Cynthia Bradham, an associate professor of biology at the University of Boston, told The College Fix via email that "the seemingly innocent and scientific regarding when life begins is fraught with overtones from the abortion debate, and the two things are being conflated by many."
"My stance is this: the sperm and egg are already alive, so life does not ever 'begin'. It does change though, and fertilization marks the beginning of a new genome. So each individual human is initiated at fertilization. These are scientific answers, and do not reflect my or anyone else's opinions. These are facts, and not a matter of opinion," she said.
Though she conceded the basic scientific argument of the pro-life movement, Bradham stressed she herself is personally pro-choice.
"Each fertilized egg = zygote undergoes development. For me, until the embryo/fetus is capable of independent survival, it remains part of and dependent on the mother's body, and therefore under her control. This is my opinion, and reflects my philosophy. This is not a scientific answer," she said.
"I am pro-choice, and I firmly believe that each woman should have the freedom to decide to terminate her pregnancy as long as it is medically safe for her to do so, including beyond the first heart beat. This is my opinion, and reflects my philosophy. This is not a scientific answer," she continued, adding: "What the legal rights and personhood status of an unborn fetus are is a matter of opinion and legal debate. It is not a scientific question, it's a social question."
'It is not a person'
Jane Maienschein, a professor at Arizona State University's School of Life Sciences, offered a more equivocal yet still recognizably pro-choice opinion on the matter.
"Of course most people would agree that a living organism that will become – later, after a long, slow, and gradual process of development that culminates in birth in the minority of cases where the whole process continues to that stage – a born person. It's not dead, and it's not some other organism. It is a human living organism. Yes, that is a true statement," she wrote The Fix via email.
"Yet this is not at all what traditional 'pro-life' social advocates mean, however. The biological statement about the organism is not the same as the social claim that 'therefore, the developing thing has the same status throughout all those developmental stages.' It is living rather than dead or inert materials. It is not, however, a 'human life' in the sense of being formed and functioning. It is not a person."
"These are two separate questions. And to conflate them and suggest that these research results 'prove' that 'most people' accept a pro-life position is just wrong. The word 'life' or 'a life' has different meanings, and we should recognize that," she added. (Jacobs's research, which focused only on biological taxonomy, did not address the question of fetal personhood.)
Few other professors responded other than to decline comment. Amander Clark, a professor of molecular cell and developmental biology at UCLA, wrote The Fix: "I agree with the majority opinion, human life begins at conception."
Another professor who requested to not be named wrote: "I believe that human lives begin later than conception."
'Pro-Life is Pro-Science'
Elsewhere, scientists and researchers have both affirmed the pro-life scientific position and endorsed pro-life politics.
Rebecca Oas, a genetics scholar who studied at Emory University, leads research in global maternal and child health care, in addition to family planning, at the Center for Family and Human Rights in Washington, DC. Oas calls herself "pro-life and pro-science," and says she "see[s] no contradiction between the two."
Oas cautions, however, against an overreliance on science when arguing the pro-life position. "Science is an ordered way to explore the way a thing is; politics and policy are attempts to push a thing toward where it ought to be…[W]e should not fail to acknowledge the sources of our own [biases], from the tenets of our deeply held faith to our belief in the intrinsic human right of every person, born and unborn, to the point of natural death. We should not deny having an ideology," she writes.
Dr. Colleen Malloy, a neonatologist at Northwestern University, was quoted recently in The Atlantic saying: "The more I advanced in my field of neonatology, the more it just became the logical choice to recognize the developing fetus for what it is: a fetus, instead of some sort of sub-human form."
Writing to the Senate Judiciary Committee in 2016 on the question of late-term abortion, Malloy argued: "One of the most basic of government principles is that the state should protect its members, including all born infants, from harm. If we are to be a benevolent society, we must protect the fetus from pain and administer appropriate medical care to all born infants."
"We should not tolerate the gruesome and painful procedures being performed on the smallest of our nation, and we should not treat infant abortion survivors with any less medical care than their neonatal peers," she added.
Malloy has advocated a ban on abortion after 20 weeks. It "is an easy thing for me to support, because those are my patients," she said in a video for Illinois Right to Life.
"The abortion issue really became real to me as a neonatologist. It just did not make logical sense that the same babies that I'd be trying to save, up all night, taking care of, would just be thrown in the trash in a different situation."
"My abortion position, 90 percent of it, came from my work as a scientist and a neonatologist. In my mind it's a completely scientific supported position to hold, when you take care of these little babies," she added.
"The evidence is…you don't even have to take my word for it. The truth is in the science."
MORE: Scholar proves biologists believe life begins at conception. It took five years and cost him a career.
IMAGE: Feng Yu / Shutterstock.com
Like The College Fix on Facebook / Follow us on Twitter