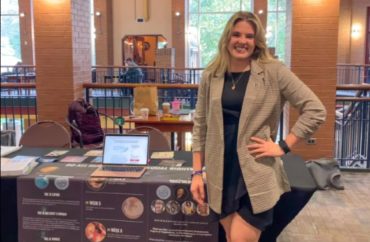 UPDATED
'The most helpless individuals' are the victims of experimentation
A pro-life student plans to host a conference on November 8 that will discuss the problems of aborted fetal tissue research and advocate for change.
The "Unethical Research Conference" at the University of Pittsburgh "will include three national speakers commenting on topics ranging from bioethics to law and followed by a panel discussion with questions from the audience," student organizer Lucia Hunt (right) told The College Fix via email.
The Franciscan University of Steubenville student is undertaking the conference as part of the Students for Life of America's Christian Fellowship program.
"The most helpless individuals in our society are being targeted by researchers throughout America for barbaric and inhumane experimentations," Hunt declares on her website. "In response to these illegal tests, Stop Aborted Fetal Testing in America is urging a response from the American people to federally ban child slaughter and inhumane testing."
University of Pittsburgh scientists lead the GenitoUrinary Developmental Molecular Anatomy Project, a tissue and organ bank used for scientific research. Researchers can request fetal tissue and organs from distribution hub.
A Pitt spokesperson previously told The College Fix that it follows all legal and ethical guidelines for research. The public university hired an external law firm to audit its fetal tissue practices. Pitt said it regularly audits its programs and did not plan to release the full report to the public.
Speakers include Franciscan University bioethics professor Patrick Lee, former Health and Human Services advisor Justin Butterfield and SFLA's Tina Whittington.
Hunt's initiatives extend beyond the conference into activism and legislative plans.
"The petition I wrote requests the United States Department of Health and Human Services to stop all funding for aborted fetal experiments in America," Hunt told The Fix. "My hope with this bill is to make not only citizens but also the representatives of those citizens, our legislators and congressmen, more aware of what taxpayer dollars are supporting."
"Unfortunately, very few people know about the allocation of their tax dollars and how they are actually being used for the unethical experiments at the University of Pittsburgh," Hunt remarked.
Her petition calls on HHS to "cease all government funding to aborted fetal research and experimental endeavors."
It has nearly 600 signatures as of November 1.
MORE: Check out the cancel culture database
Editor's note: The article has been updated to remove references to 14 universities being involved with the GUDMAP project. Hunt mistakenly identified the universities as being involved with GUDMAP.
IMAGE: Lucia Hunt/Facebook
Like The College Fix on Facebook / Follow us on Twitter