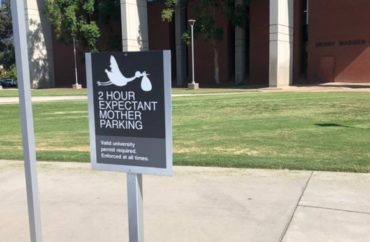 But feminist professor cites 'ableist' concerns
Members of the Fresno State University Students for Life club scored a victory recently when campus officials allocated some faculty parking spaces to expectant mothers, finalizing an effort the group had worked on since October.
The parking spaces make it easier for pregnant students to get to class without having to trek across campus because faculty parking is closer to classrooms than regular student lots.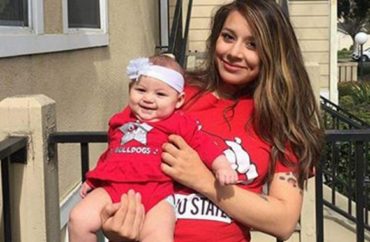 "I always dreaded parking on campus when I was pregnant because of the long walk to class. I remember my walk from my car to campus taking up to 30 minutes," club member Jessica Riojas (pictured) said in a news release. "I am so happy pregnant students now have the access to parking closer to campus."
Riojas' struggles to get to class was one of the inspirations for the project, according to club members.
"We hope pregnant students see these signs to help them know that they are not alone and that we support them as they continue their education," Bernadette Tasy, the now president of Fresno Pro-Life Future, told The College Fix via email.
"The parking spots are, in a way, honorary—like parking spots reserved for veterans or 'employee of the month,'" Tasy added. "We have had members who were eight and nine months pregnant walking a distance that might take me 10 to 15 minutes, for them it would take 25 to 30 minutes, especially when carrying backpacks, books, and any other items."
At least one professor has voiced concerns about the motivation behind the stalls, however.
Professor Larissa Mercado-Lopez of the Women's Studies Department and a campus advocate for pregnant students as well as student parents stated in The Collegian campus newspaper "I do have questions about why they were created."
"If it was to accommodate the physical challenge of pregnancy, I would say that the premise of that notion is ableist and perpetuates the idea that pregnancy is a disability," Lopez said.
But Tasy said she believes that taking up faculty parking or being upset about the nature of the spaces is not the heart of the frustration.
"I strongly believe that anyone who considers themselves 'pro-choice' and opposes this project on our campus is just upset that they didn't think of it first," Tasy told The Fix. "They are trying to make it a controversial topic because we are a pro-life group who is doing good, no matter what you think about abortion. My pro-choice and pro-life friends are in agreement that this is a wonderful way to support our pregnant students."
MORE: Fresno State Students for Life club helps save unborn baby from abortion
IMAGE: Courtesy photos
Like The College Fix on Facebook / Follow us on Twitter